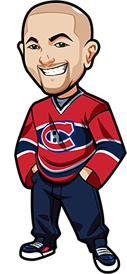 Written by Graeme on Thursday, January 31st, 2019
Follow @BetNHL
Post all star break we've been sticking with one bet a day, and a 0.5u play only as we've been very cautious about how teams will do after a decent break.
A few days in, the jury is still out.
The bye week saga of 2016-2017 is fresh in our minds. Not that that was a bad thing – we made a ton of profit from that if you remember, selectively backing against teams coming back from their bye week. There was also a few opportunities last season – although not as many – that we were able to get on top of.
This staggered return back from the all-star break is a bit more confusing though and so it's been tricker to get a grip on games.
Tampa were obviously showing a bit of rust last night. Don't get me wrong – that first period they were creating a ton of chances – but the finishing just didn't look as clinical and they seemed a bit off. Their defense didn't seem to see the danger signs when it came to some of the Penguins attacks, and Vasilevskiy struggled.
However there is no real trend that we're spotting. If "rust" was going to be the big factor it was 2 years ago then the Sabres should have pounded the Stars.
In hindsight, I think it would have been a better decision to just take the week off from tips after the all star break. Let this weekends game pass and let teams get back into their rhythm. Much like I did with the non-NHL systems during the World Juniors – skipped it during those tournaments and waited till the system was producing positive results again before going back to the tips.
The all star break always seens to be that time where teams really reevaluate themselves and look at their realistic goals for the season.
But hey it is what it is. It could be simple variance too as Tampa really didn't deserve to be shut out at the end of that first period. We just have to proceed with caution. Just looking forward to next week when we're back to business as usual.
What's frustrating for me is that inspired by Mbarasi in the comments, I've been working on my own underdog system the last few months. I've put it out for private testing to a few select people and it's been going well so far (albiet with a tiny sample size) and now I'm concerned that the bye weeks may skew that.
I won't be posting it in the tips until I get a bigger sample size – so good chance it won't even be this season – but if you want to check it out you can see a spreadsheet where I post the bets each morning here. Please note there will be times it will contradict our official tips. It's not until I feel the system is a proven success that I'll actually use it as part of the tips. (And there's no picks from it tonight FYI)
Rangers vs Devils Betting Tips:
While I'm proceeding with caution, I think this one is worth a play on the over.
These teams have had some high scoring games when they play each other. They're usually very competitive.
Both teams have shaken off any rust from their time off I'd have to say. Rangers struggled to score against Stolarz but we're seeing the break benefit quite a few goalies. Kinkaid in particular played solid against the Penguins.
Devils are without Vatanen tonight. They're starting Kinkaid again.
Neither of these teams are going to make the playoffs I expect although with a big run it's still possible. This should hopefully be a competitive game that goes over.
Let's end the month on a winning note.
0.5u on Over 6 Goals incl OT/SO
Canada: 1.87 Odds at Sports Interaction + free $20 bet.
USA: -115 Odds at Bovada.
Everyone Else: 1.83 Odds at Bet365 (Americans: We recommend http://www.bovada.lv.
(Odds correct as of 2019/01/31 9:45:06 AM EST but are subject to change.)
OHL / WHL / AHL / KHL / Czech Extraliga Betting Tips:
(All below systems are based mainly on mathematics and statistics with very little human input and are deemed experimental. )
KHL Betting Tips (9-8, -0.06u): Lokomotiv incl OT/SO 1.72 1u.
OHL Betting Tips (15-11, +1.36u): 1u on Mississauga Steelheads in reg 1.85. 0.5u on North Bay Battalion in reg 1.90.
Where To Bet the Non-NHL Leagues:
Canadians: Bodog and 888 Sports.
Americans: Bovada.
Everyone Else: 888 Sports.
Follow @BetNHL
BetNHL.ca » Tonights Tips »