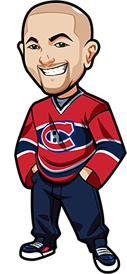 Written by Graeme on Sunday, January 31st, 2021
Follow @BetNHL
Man feeling a bit of deja vu today. It's almost like I've seen todays slate before!
SEVEN of todays eight games are repeats from yesterday or Friday. The only fresh matchup is Senators vs Oilers. Ugh.
Yesterday I just had the one play which was Panthers in reg. Panthers won but it took OT unfortunately. I don't think that was anything out of bizarro land – Panthers were the better team but variance is what it is in hockey. Really felt they were unlucky not to get a goal in the 2nd or 3rd.
Results seemed pretty much as expected yesterday. One that surprised me the most was the Canucks as they really brought the heat. Good for them.
Anyway like I said – today is a bit weird with all these matchups. Yesterday I had no picks other than the Panthers one and looking at it today it's like man – has anything really changed from my opinions yesterday?
Also with this setup I gotta say this really feels like a day out of bizarro land. So just a heads up. The last few days have been
I decided to approach each one with a more casual approach with the aim not to tip unless anything really jumped out at me.
Stars vs Hurricanes: Stars with their first top 10 opposition, and get thrashed. Do they bounce back? Even with Petr having to leave the canes adjusted fine. Stars generally just looked flat and dominated all over the ice.
Despite that, the Canes really aren't as heavy favourites as you'd expect. You have to wonder if it was just an off night for the Stars Yet when I look at the metrics I really don't see the Stars as worthy of their rankings etc.
That may change of course as not enough sample size for that. And I mean Hurricanes DID lose the 2nd leg against the freaking Detroit Red Wings.
I just feel like the Canes – especially these last two games – have looked excellent. Even missing so many key players. Dallas 5 vs 5 stats were absolutely brutal. Even if Dallas pick themselves up I still like the Canes. Injuries, bizarro land etc are a big factor but I do think there is value in this Canes line.
Canes win incl OT/SO if Reimer is in net
Canada: 1.84 Odds at BetOnline..
USA: -118 Odds at BetOnline..
Everyone Else: 1.84 Odds at BetOnline..
(Odds correct as of 2021/01/31 12:28:16 PM EST but are subject to change.)
Devils vs Sabres: Said yesterday I thought Devils had a better chance than odds suggested. That was the case. Similar thoughts today. But while Sabres can't get the job done in regulation a lot they still seem to be pulling the points out.
Panthers vs Red Wings: My thought yesterday was that if the Panthers didn't get it done yesterday they would today just based on the trend. I think they probably get it done today but I don't like to go back to the well. I didn't see anything yesterday that would really change my mind though. I like Panthers in reg again although not enough to advice.
Jackets vs Blackhawks: Like I said Friday these are going to be tight games very likely. Fridays was. No value on Jackets based on that analysis but I don't feel confident backing the Hawks.
Flyers vs Islanders: Flyers just seem to continue to get the job done with a bit of puck luck. I knew without looking that they would have a high PDO and sure enough 2nd highest in the league. No bet because while that will regress these wins will be building their confidence etc.
Avs vs Wild: Avs starting to get on a roll. 3 wins in a row. Crushed the Wild. They just went 2-0 against the Sharks. Now we have all these potential injuries like Dumba, Johnson etc. Miska in net is a wee concern for me especially with Wild probably getting Talbot back. No bet but this was another one we were close to.
Ducks vs Blues: An absolute blowout yesterday. I expect similar. The thing is I said yesterday I thought that might happen – but it would be due to the Knights game being canceled. Was that the case? If so do they regress today? This is the type of thing where past bets and thoughts are a factor – as I considered that as a possibility it means I can't go with the Blues today.
Senators vs McDavid: I mean on paper we should be able to bet Oilers -3.5 and laugh all the way to the bank. In reality? No. Just no.
Follow @BetNHL
BetNHL.ca » Tonights Tips »