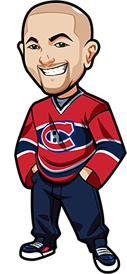 Written by Graeme on Friday, January 5th, 2018
Follow @BetNHL
Hi all,
Well that's me back from Scotland now. For those unaware I was over there for the past 10 days. Was able to do tips a couple of the days but the last few days I was super busy so had to tune out of the NHL really.
Spent most of the morning just getting caught up and watching lots of highlights etc. Been quite a lot of surprising results lately and man – what a disaster the Penguins are. The Hurricanes are an interesting team because if you run any advanced metrics they're usually at the top yet that never translates into the way they play. It's been like that there for at least 3 seasons now – very weird.
The trip to Scotland was great. For those unaware I'm actually Scottish – moved to Canada when I was 16, but all my family(mum, dad, sister etc) all live over there so I go back and visit every few years. It's fun going with my wife & kids who are all from Canada as it means we get to do all the tourist stuff like the castles etc.
And if you're ever in Cumbernauld over there be sure to check out Bombay Dreams – the best Indian restaurant I've ever been to. Naan bread the size of a skateboard. Although in saying that do NOT go to an Indian restaurant 12 hours before you have to go on a flight. Not only did I have quite a few close encounters during that flight but the vindaloo sauce exiting out that way had me worried I'd set my seat on fire.
Anyway it's very good to be back. There's been talk in the comments lately about possibly setting up a Facebook page for people to discuss however we won't be going that route again for numerous reasons. One is that despite what they host Facebook are very anti-gambling and can shut pages down on a whim. We had a page with thousands of followers on there for years and then one day they just shut it down for gambling despite having many similar ones on there.
I've been looking into things and talking to a few people and I think what people are really looking for is the ability to chat during games – possibly just talking about the games or doing live betting. So I'll be looking at having a chat room set up during games where people can talk. More on that within the next few weeks.
Penguins vs Islanders Betting Tips:
Last time these two played it was a 7 goal thriller with the Penguins winning 4-3.
Islanders are the Islanders. Their offenes took a few nights off but they look to be back firing on all cylinders after last nights game against Philly. All but I believe 2 of their 2nd leg B2B games have hit at least 6.
Pens offense was shut out against the Canes and man they are a tough offense to back at the moment. However last time they were shut out they came back firing and with Islanders being the Islanders you gotta think they can get the goals in.
Over 6 Goals incl OT/SO
Canada: 1.90 Odds at BetOnline..
USA: -115 Odds at
Everyone Else: 1.90 Odds at BetOnline..
(Odds correct as of 2018/01/05 10:46:50 AM EST but are subject to change.)
Other Game Thoughts:
Sharks/Sens historically have some pretty feisty games. Both have such inconsistent performances at the moment that I can't back anything(I'd probably back one if they were a big dog but it's close odds). I'll probably bet the Over 5.5 though.
Jets should clean the clocks of the Sabres BUT Buffalo usually match up well with Winnipeg. With the Sabres having only 4 regulation losses in their last 13 games I can't back the Jets here especially at the odds. Actually at the price I'd probably go with Buffalo if it wasn't for the Jets ability to bounce back.
I was very close to backing the Knights. The price is right considering their ability. However despite not a mind blowing record the Blackhawks are a very solid home team with the type of performances that could spell trouble for the Knights. That along with them riding the Glass wave at the moment is enough for me to stay away.
Follow @BetNHL
BetNHL.ca » Tonights Tips »