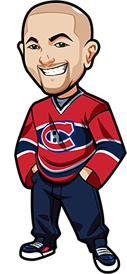 Written by Graeme on Sunday, January 5th, 2020
Follow @BetNHL
A fun day of hockey and sports in general yesterday.
How about those Knights? What a team. We had the over in that one and the Blues went up 3-0 in the first period. The Knights fought back hard though and put the game over as they won 5-4 in OT. What a game that was.
We had the Leafs in regulation if Andersen was in net. Surprisingly he wasn't as the Leafs rolled with Hutch. If you followed that play it was still a winner though as the Leafs managed to shut the Islanders out and get a nice and easy win. I'd suggested the over there but Islanders could not get by Hutch. Big win for the Leafs there.
In the voting for "Best Bet of the Night" you went for Lightning -1.5 with 31% of the votes. Holy was that one a tight one but Tampa had a 3 goal 3rd period to get the win there.
The next best bets were the Penguins to win and the Tampa/Senators game to go over and again you got them right. Great job everyone. I'll have to keep that poll going for a bit as I actually made money off it myself. I wasn't going to back Tampa -1.5 yesterday then did so after seeing the results so that was nice.
Here's todays poll featuring Flames at Wild and Predators at Ducks:
[poll id="67″]
Only the one play today. Tampa/Canes reminds me of Rangers/Canucks yesterday where on paper it should go over but I just have a feeling it won't. I think the Flames will pull off the W but the odds aren't good enough for me there. I'm almost tempted by the Wings over the Hawks. I think Panthers will pull off the upset against the Penguins but I don't have enough confidence to advise them.
Capitals vs Sharks Betting Tips:
Initially I wasn't going to have any plays today. The Sharks have been looking better lately and I was a bit wary of them here. However I started doing write-ups for each game and some brief analysis and then decided Capitals to win in regulation is just a play.
Capitals are coming off a hard earned victory over the Hurricanes to stop a slump. I think they'll carry the momentum into this one. Caps destroyed the Sharks last time out and will be looking to sweep them here.
Sharks have an excellent penalty kill so Caps are going to have to rely on 5 on 5 here most likely.
Just one of those games where I feel despite the Sharks solid results lately, the Capitals are the better team and following that Canes win, will be able to string a couple of wins together. That game was good as the Caps showed a lot of fight there.
Holtby is in net and he has been a bit of a liability lately but the Sharks offense isn't exactly lighting it up right now.
0.5u on Capitals in Regulation
Canada: 1.70 Odds at 888 Sports.
USA: -150 Odds at BetOnline..
Everyone Else: 1.70 Odds at 888 Sports.
(Odds correct as of 2020/01/05 10:28:23 AM EST but are subject to change.)
Follow @BetNHL
BetNHL.ca » Tonights Tips »