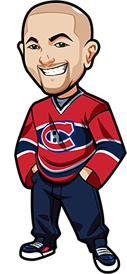 Written by Graeme on Friday, January 6th, 2017
Follow @BetNHL
The World Juniors ended on an amazing note last night, with what has to be one of the best gold medal games I've seen.
That was an incredible game with Canada channeling the Leafs with the way they kept blowing leads, as the US came back twice from 2 goals down and won in a shootout.
The way the US kept fighting back was incredible and it was just an amazing game.
I haven't had a chance to watch much NHL action from last night other than the highlights – but there was a lot of disappointing performances out there which affected our betting tips. The Kings getting blown out like that was a shock for sure.
The Jackets run came to an abrupt end with the Capitals demolishing them, but for me the most interesting result of the night was the Wild beating the Sharks 5-4. It looks to be a tremendous fighting performance from Minnesota and really good to see. They're joint favourites to win the cup at the moment and I could easily see that happening with performances like that.
I'm loving Eric Staal in particular. In the fantasy league we're in we drafted Eric Staal because we were being rushed for a pick and were a few beers deep. We received multiple mockings for that so we decided to go along with it – renamed our team the Wild Stallyns, used a picture of Staal as the logo for the team. And oh snap – thanks to Staal and a few others look who's top of the league:

Onto todays tips – no best odds today as rushing to get it out before the 1pm cutoff.
Leafs vs Devils Betting Tips:
The Devils are coming into this one off two solid victories over the Hurricanes and Bruins. Neither of those teams however have an offense as explosive as the Leafs offense is at the moment.
The Leafs nice win streak ended at the Capitals but with the way they blow leads and pick themselves up this season we've got to go with them to continue to do so.
We just don't rate the Devils as a team much this year. They've had a lot of problems and very poor performances and if it wasn't for Schneider they'd be a basement team. Even with him going up against a Top 5 offense in the Leafs, it should be too much for them.
Leafs to win incl OT/SO
Islanders vs Avalanche Betting Tips:
The Avalanche are of course a disaster at the moment. However they randomly pull out upsets – such is hockey.
We do like the Islanders to win here. They've had some solid performances since the break however we're wary of the Avalanche upset.
So we're going to take enhanced odds – we're going to bet Islanders in regulation as opposed to just win. Because if the Avs play like they normally do the Islanders should clean their clocks. Winning this one in OT would just feel dirty.
Ducks vs Coyotes Betting Tips:
The Ducks come into this on the back of a 2 game winning streak. They've been quite disappointing this season considering some of the quality in their team, but they're easily the better side here. I really like the performance of John Gibson as well coming into this one.
This has been a season full of inconsistency by a lot of teams, and a lot of upsets. Regardless of all that though, we feel the Ducks in regulation is the right pick.
Blackhawks vs Hurricanes Betting Tips:
Hawks struggled a bit yesterday but as I said – the Sabres always ride them hard. The Canes however have beaten the Blackhawks in the last 3 games.
This was an interesting one as we initially weren't going to bet it – it didn't make the cut. But when I was doing my bets and writing these tips I called up Scott so we could revisit it. We both just feel strongly enough about the Hawks tonight. We just find it hard to see the Canes winning these two massive back to back games. If they do it then full credit to them but we're taking Blackhawks in Regulation.
Follow @BetNHL
BetNHL.ca » Tonights Tips »