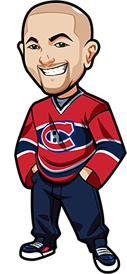 Written by Graeme on Saturday, January 6th, 2018
Follow @BetNHL
Some great action in the NHL last night.
The New York Islanders surprisingly got shut out by the Pittsburgh Penguins to kill our over 6 tip. Jarry pulled off some key saves in the 1st and 3rd which were frustrating. If one had went in the 1st period I think that would have put it over and the Islanders were putting up a ton of pressure in the 3rd. If one had went in there it would have opened the floodgates but alas it was not to be.
My leans went the way they expected with the Sharks/Senators game going over and the Knights winning. The Sharks/Sens one is one of those weird ones where those two teams together is starting to become a goalfest of a game even when there's no real rhyme or reason towards it. It just seems to happen.
The Knights had a hard fought victory over the Chicago Blackhawks. I stayed away from that one tip wise as looking at the metrics for the Hawks at home, they put in very good performances even if the results don't show it. That was similar last night and they were just outworked by the best in the biz, the Vegas Knights. It's one of those where even though I liked the Knights, I feel not tipping it was the right choice. (Although that's where the unit betting system will be handy with being able to do 0.5 unit plays on games like that).
We'll have our unit betting tracking implemented on here on Wednesday for those who have asked where we'll be allocating 0.5/1/2 units per game depending on how we feel about it.
Early games today with the Flyers vs Blues at 1pm EST and then the Stars vs Oilers at 3pm EST. Then we've got NFL playoff action as well as the usual Saturday Night Hockey. Great day to be a sports fan.
No OHL, WHL, AHL or KHL tips yet I haven't had the time to get everything updated. Been busy catching up on work since I've been back plus I bought the family a Nintendo Switch at Xmas and I keep having to take a break from work to school the kids at Mario Kart.
Stars vs Oilers Betting Tips:
The Stars are at home where they have a 15-5-1 record. They've been an excellent team at home overall this season. They've played the Oilers twice so far and both teams have been great contests.
Stars are going into the bye week and I like a big effort from them tonight. We saw that last year with teams – before the bye week they'd put in maximum effort and play hockey like they were the Golden Knights or something.
Oilers should push the Stars hard however I think we're going to see a big performance from the Stars tonight.
Going to go with the riskier Stars in Regulation here as I think when you look at everything, the most likely outcome is a dominant victory from the Stars.
The over was a contender too for a pick(would probably be a 0.5u pick) but that Oilers offense is starting to concern me again.
Canada: 2.10 Odds at Bet365 (Americans: We recommend http://www.bovada.lv.
USA: +105 Odds at Bovada.
Everyone Else: 2.10 Odds at Bet365 (Americans: We recommend http://www.bovada.lv.
(Odds correct as of 2018/01/06 10:43:39 AM EST but are subject to change.)
Wild vs Avalanche Betting Tips:
An interesting game between two teams growing in confidence.
The Avs have quite a few injuries yet are coming into this on the back of an impressive 4 game winning streak against solid teams. The method of victories are impressive too.
However the Wild have Parise playing and Niederreiter back and boy did he come back with a bang.
I just think the Wild are going to carry this confidence on with them. Of course I'm concerned – their road form is atrocious – however I think the team spirit they have at the moment is all that is going to matter and they should take this one.
I've went back and forth as I really want to take them in regulation but I'll go with Wild to win incl OT/SO.
Canada: 1.83 Odds at Bet365 (Americans: We recommend http://www.bovada.lv.
USA: -125 Odds at Bovada.
Everyone Else: 1.83 Odds at Bet365 (Americans: We recommend http://www.bovada.lv.
(Odds correct as of 2018/01/06 10:43:39 AM EST but are subject to change.)
Follow @BetNHL
BetNHL.ca » Tonights Tips »