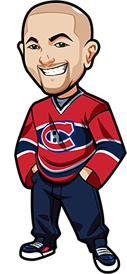 Written by Graeme on Friday, January 6th, 2023
Follow @BetNHL
A 2-1 night last night with the NHL Tips.
The loss was the Leafs race to 3 and that entire game was a big surprise, as the Leafs were held to just one goal. Disappointing from the Leafs who really should have tied it up shortly after it went 2-1. Good performance from Jones in that one.
Won with Rangers in regulation, and the handicap would have came in there which I had initially analyzed. Also won with Caps over 3.5 goals as they steamrolled the Jackets.
Let's jump into Fridays six games:
Red Wings vs Panthers:
Wings not played too much in the last week. Had that Devils thumping at home. Panthers have been brutal this past month. Lot of people thought they had turned a corner against the Habs but lost two in a row before the win against Arizona.
Their defense and goaltending is an issue right now. Their offense hasn't been too bad overall. Now hosting Detroit who have very poor overall goaltending.
Wings feel goalie dependent right now. Husso is in net which is off-putting slightly. Panthers on the road. Just not seeing enough to back Panthers in regulation, which is what it would have to be for the odds. This one looks like it could be close.
Capitals vs Predators:
Both teams on a B2B and both great results. Performances? Not exactly the same. My god how did the Hurricanes not win last night? Unreal. A 6.09 xG.
Caps 1.60 which seems a bit of a surprise I mean the Preds aren't exactly blowing away good teams. Advanced metrics Preds offense is looking great but I mean you got the Habs, Ducks in there. Big props to them last night though.
Feel good about Capitals in Regulation here. Just the overall better team and playing some really good hockey right now. Nothing concerning about their B2B metrics.
Ontario: 2.00 Odds at Bet365 (Americans: We recommend http://www.bovada.lv
Canada: 2.00 Odds at Bet365 (Americans: We recommend http://www.bovada.lv
USA: +100 Odds at Bovada
Everyone Else: 2.00 Odds at Bet365 (Americans: We recommend http://www.bovada.lv
(Odds correct as of 2023/01/06 12:17:53 PM EST but are subject to change.)
Jets vs Lightning:
Jets cme in on a little win streak. Tampa just suffered a big 5-1 loss to Minnesota. I slughtly lean towards Tampa here but so do the sportsbooks. And the Jets gotta be coming in with some confidence. Not sure if Vas is fully healthy and I think Jets are welcoming back some, if not all of Perfetti, Ehlers and Schmidt, or not so yeah it's a pass.
Blackhawks vs Coyotes:
Ho boy.
I feel like for games like this the bookies just chuck out coinflip odds right off the bat and let the market decide.
Looking at the metrics? Coyotes should win honestly. If they were at home I'd probably back them here. It probably doesn't matter of course against the Hawks.
Yeah I don't feel good about betting anything here.
Flames vs Islanders:
I groan when looking to analyze a Flames game. Not a team I can trust at all. They just lost to Jets while Islanders lost last night to the Oilers.
Man how bad were the Islanders offensively there? It's Campbell in net FFS. The worst offense in the league put 5 past him! Can't trust them.
Slight lean on the Flames I'd say. Maybe not as big as the bookies have it figure they might win by a goal. Nothing for this one.
Ducks vs Sharks:
I don't hate the Sharks here but the bookies don't either, really making them unplayable. Don't have the confidence to take them in regulation. Sharks to score at least 3 goals looks like it's probably on the cards, but SCGF/SCGA leans slightly away from that. Yeah nothing for this one.
Follow @BetNHL
BetNHL.ca » Tonights Tips »