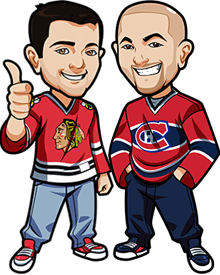 Written by Graeme & Scott on Wednesday, April 11th, 2018
Follow @BetNHL
Welcome to the beginning of the 2017/2018 NHL Playoffs.
How we handle the NHL playoffs when it comes to tips is simple – for Game 1 we both give our separate opinion on the series, and then we do individual opinions from Game 2 onwards.
Over the years we've found it's much easier as otherwise there'd be days with no tips at all most likely when our opinions clash.
Only games where our opinions are the same count as an official tip.
The NHL Playoffs begin today with three games on the board and we'll go over all three series today. There are two early games with one in the West, one in the East. The Flyers vs Penguins and the Wild vs Jets. Then we have the late game with the Kings vs the Golden Knights.
Should be a great night of hockey and we can't wait.
I also want to outline some places to go to for NHL Player Props:
Canada: Bet some really great series player props like who will have the most points – Staal vs Scheifele, Kopitar vs Karlsson etc at Sports Interaction.
Everyone(including Canadians) except USA: From an individual game basis, we advise Casumo. For example tonight in the Pens vs Flyers game you could bet if Crosby will score or not or if he'll get the first goal or the last goal. You can bet whether a player will get a point or not and you can bet shots on goal by certain players like Giroux, Crosby etc. All of that available at Casumo and you can also bet series futures there too for the players.
Americans: Bet on player props for each game such as if Laine scores a point or gets no point, if Scheifele scores a goal or not etc at BetOnline. where they also have team props such as team shots on goal and many more. All under "NHL Props" section.
Let's get to it:
Wild vs Jets Series Betting Tips:
Scott: The Jets won the season series 3-1.
The Wild will be without Ryan Suter. He was their best defenseman and arguably their most valuable player. With him out it is going to be a struggle to replace not only his skill but his near 30 minutes of ice time a game.
The Jets finished in 2nd place overall in the league and are a balanced team. Their goalie Connor Hellebuyck set a record for most wins by an American goalie in a season with 44.
The Jets home fans are nuts and they can and will really sway the game. No Suter for the Wild so I dont see them having a chance in this series.
Jets in 5
Graeme: The Jets have looked like such an incredible team all year long. They were the team we made a LOT of money on this season purely due to their bounce back ability whe nthey'd occasionally lose a game. Their home record was excellent as was their road record.
The Wild were beasts at home with a 27-6-8 record while they struggled on the road. They lost Suter however with a couple of weeks left in the season and that hurt them.
Honestly if Suter was healthy I'd probably say this would be a home ice Game 7 decider with the teams trading wins. However I think the Jets are just too good and they're going to rack up 2 wins in a row and really put the pressure on.
I thiiiiiiiink the Wild are good enough at home they can get one W but that's it.
Jets in 5
BetNHL.ca Tip: Bet the Winnipeg Jets to win the series with a -1.5 handicap for about 2.10 odds. Best odds for this are at:
Flyers vs Penguins Series Betting Tips:
Scott: Pittsburgh won all 4 games against the Flyers during the season.
This is going to be a fantastic series between instate rivals.
The Penguins are all offense. Crosby, Malkin, Kessel, Hornqvist, and much more fill their lines. Their depth is unreal.
The Flyers were a streaky team all season and moved into 3rd in the Metro on the last day of the season. That kind of play won't get you far in a series against the back to back Stanley Cup winners.
Murray had a down year for the Pens but the Flyers are just getting Elliott back from injury and he will be tested in this series.
Too much scoring depth for the Pens and they'll come away winners.
Penguins in 6
Graeme: As Scott said, the Pens sweeped the Flyers. I'm sure we all remember the epic series in 2012. Philly won that series 4-2 and there was just some INCREDIBLE games with goalfests like crazy.
The Penguins were the 3rd highest scoring team in the East and were average for goals conceded. Philly had slightly better defense but Giroux was their main man on offense.
Honestly after the regular season sweep, Game 1 is a crucial one for the Flyers and they're going to throw everything they have at Pittsburgh I think. However their goaltending is a big issue and I just don't think they have the offense to match the Penguins.
"Too much scoring depth" is exactly it and while I think the Flyers can steal one game I think that's it. Personally I'll be betting
Penguins in 5
BetNHL.ca Tip: Bet the Pittsburgh Penguins to win the series with a -1.5 handicap for about 1.88 odds. Best odds for this are at:
Kings vs Golden Knights Betting Tips:
Scott: The season series between these teams was 2-2.
The Knights were an incredible story this year. They set records by an expansion team with points, home wins and road wins. The Knights had a rough stretch heading into the playoffs going 10-8-2.
The Kings went 12-5-3 down the stretch and have 11 players on their roster who were there when they last won the cup in 2013-14. That experience is going to go a long way for them in this series.
I want Vegas to win this series but I'm not sure they'll have what it takes. I expect this to be a long series but with Doughty, Kopitar, Carter and others on their team, the Kings have a great shot at moving on.
Kings in 6 maybe 7
Graeme: No way in hell am I writing off the Knights here.
First of all they surprised us so much this season. They had a few losses near the end of the season but they were battling injuries and I'm sure just motivation in general.
They're a team everyone doubts and I feel with their rich history, the Kings are overvalued in this one.
I was not impressed with the Kings down the stretch. They just didn't seem like a playoff team to me. I could be completely wrong and the Kings come out and sweep this new team 4-0 however at the end of the day no-one worked harder this season than the Vegas Knights and if they bring that type of hard work into this series they should do the business.
Knights in 6
No official tip for this one as we both disagree. However both are above our 1.70 threshold so here's the best odds for where to win the series:
Kings win the Series:
Canada: 2.20 at Bovada.
Everyone Else: 2.10 at Bet365 (Americans: We recommend http://www.bovada.lv.
Knights win the Series:
Canada: 1.86 at Sports Interaction.
USA: -125 at BetOnline..
Everyone Else: 1.80 at Casumo
All (Odds correct as of 2018/04/11 1:24:03 PM EST but are subject to change.)
Follow @BetNHL
BetNHL.ca » Tonights Tips »