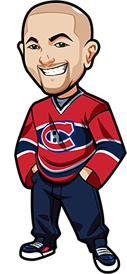 Written by Graeme on Friday, July 10th, 2020
Follow @BetNHL
UFC 251 takes place tomorrow night and man I am pumped for it. Jorge Masvidal is the true BMF as he steps up on short notice to take on Usman.
Dude took the fight on like a weeks notice. You could give me 10 years notice and a million dollars to fight Usman and I still wouldn't take it. I saw Colby after that fight – I'm good. You can keep your cash.
It's a bloody stacked card and I am quite excited for it. A lot of potential good plays betting wise as well with fairly close odds.
Masvidal looked a bit bloody rough at the weigh-ins. Even though I will be betting against him below – I'm seriously rooting for the guy and hope he can pull it off.
I liked the faceoffs where it was like a race between the both of them to see who could take the mask off first for intimidation.
If you're looking for soccer tips I've covered the July 11th Serie A games and the July 11th EPL Games over at BetSoccer.ca. On a nice little run there going 4-0 on Wednesday in Serie A and 2-1 on Thursday with EPL so hope it continues.
UFC 251 Bets:
I'm going with a small play on Jose Aldo to win. If Yan is able to take him then so be it but I think this is a big jump in skill level for Yan and I am not sure if he has the ability. We'll find out but this is something I am always looking for when it comes to betting on UFC – watching someone who is performing well have that opponent skill level leap. Aldo has lost his last two but still has been performing well.
I also really like Marcin Tybura. He hit a bit of a road block however looked solid against Spivak and Grishin is coming on on short notice. Grishin is probably going to rush in fast and go swinging hard and if Tybura can survive that he should take this one.
I mentioned Usman above and I am doing a double of him and Rosa at about 2.15 odds. Even bigger bonus there is Melo coming in not making the weight cut. I think Rosa is a fantastic fighter and should take that one. For the Usman fight – I mean Masvidal is one sick dude to take this and I'll be rooting for him but the smart money is chucking Usman in here.
Finally two additional underdogs. The first is Davey Grant at 2.55 odds. Martin Day hasn't fought in awhile so it's tough to know where he's at however I think Grant can handle him on the ground unless Day has managed to really improve his wrasslin ability while being off.
And finally Jiri Prochazka. Big debut for Jiri but he looked great in Rizin and I think really belongs in the UFC and he will get a statement victory here.
Man I am pumped for this card. Can't wait. Who else is watching and what y'all betting?
Follow @BetNHL
BetNHL.ca » Tonights Tips »