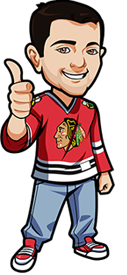 Written by Scott on Wednesday, July 1st, 2020
Follow @BetNHL
Happy Canada Day to all our Canadian readers. Hopefully you can relax and do something fun to celebrate our great country.
For this article we will go over some of the player props from the Coyotes vs Predators series
We have gone over only a few of the ones available. For the complete list go to Sports Interaction
Coyotes vs Predators
This series doesn't really excite me for some reason. There are plenty of stars involved so it could end up being a great series.
Kessel 2.25 vs Duchene 2.25
Kessel had a down year. He played in 70 games and put up only 38 points. Yes the season was cut short but his point totals in the last 3 seasons before this one were; 82, 92 and 70. He seems to find an extra gear in the postseason though playing in 87 games and getting 77 points. In his career against the Predators he has played them 19 times for 16 points.
Duchene played in 66 games this season scoring 42 points. Over his career he has played the Coyotes 31 times for 21 points. Duchene doesn't have the playoff experience that Kessel does but is almost a point per game player in the postseason playing in 18 games for 16 points.
This could be a good series and I think that Kessel and his playoff experience will give him more points than Duchene no matter the outcome of the series.
Kessel 2.25 
Hall 2.25 vs Forsberg 2.20
Hall had a good season split between the Devils and the Coyotes. He played in 65 games and put up 52 points. Forsberg also had a good year playing in 63 games for 48 points.
Over his career Hall has faced the Predators 22 times for 21 points. He has only been in the playoffs once playing 5 games but put up 6 points.
Forsberg has played against the Coyotes 14 times and put up 9 points. He has played 61 games of playoff hockey and put up 44 points.
The Coyotes are an offensive team but Hall has very little experience in the playoffs. I have to lean towards Forsberg in this one
Forsberg 2.20
Ekman-Larsson 2.95 vs Josi 1.80
Ekman-Larsson was on pace to put up his usally good numbers playing in 66 games for 30 points. In his career he has played the Predators 30 times for 16 points. His Coyotes made the playoffs once in his career but they had a good run that year playing in 16 games putting up 4 points.
Josi had a great year setting a career high in points despite only playing in 69 games but he hit 65 points. Over his career he has played the Coyotes 24 times grabbing 15 points. In the playoffs he has played 71 games for 32 points.
Josi is still, somehow, underrated. He played at almost a point per game this season. He is one of the best in the league and a huge part to the Preds success.
Josi 1.80  
Canadians head to Sports Interaction to find these props plus the full list available for this series
Follow @BetNHL
BetNHL.ca » Tonights Tips »