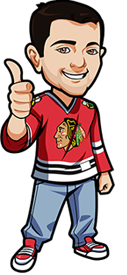 Written by Scott on Thursday, July 2nd, 2020
Follow @BetNHL
Well I hope all of our Canadian friends had a great day yesterday. My kids and I had a great campfire while my awesome wife made an great spread of macaroni and potato salad to go with our barbecue.
For this article we will go over some player props from the Jets vs Flames series.
This will be a good series and here in Canada it will be followed closely as it features two Canadian teams.
You can bet on the player props from this series at Sports Interaction
Jets vs Flames
This should be a great series. These teams were close in the standings with the Jets having 80 points after 71 games and the Flames having 79 points after 70 games.
Conner 2.15 vs Tkachuk 2.30
Kyle Connor had the best season of his career this season. He put up 73 points in 71 games. Over his career his has faced the Flames only 6 times and had 2 points. He has played in the postseason 2 times playing 23 games and getting 15 points.
Matt Tkachuk played in 69 games this season for 61 points. He has faced the Jets 9 times scoring 1 goal and 7 points. He has also been in the playoffs twice playing in 9 games for 3 points.
With Connor having a career best season and having more playoff experience I like him to outscore Tkachuk in the opening round
Kyle Conner 2.15 
Wheeler 2.20 vs Monahan 2.20
Wheeler had a yet another good season playing in 71 games and scoring 65 points. He has played against the Flames 21 times for 19 points. He has been in the playoffs 5 times playing 48 games for 33 points.
Monahan had a down year but still put up ok numbers. He played in 70 games and registered 48 points which was down from his season last year where he had 82 points in 78 games. He has faced the Jets 16 times getting 13 points and has played 20 games in the postseason putting up 13 points.
With Wheeler having a consistent career and having more playoff experience I'll go with him in this matchup
Wheeler 2.20
Scheifele 2.20 vs Gaudreau 2.25
Scheifele played in 71 points and put up 73 points which were the same numbers as his linemate Connor. He has played against the Flames 17 times in his career putting up 9 points. He has 26 points in 27 playoff games.
Gaudreau had the worst season of his career scoring 58 points in 70 games. If the season wasn't cut short he surely would have had more points which would have put him past his rookie total of 64 points. He has played the Jets 15 times and has 19 in those games. He has played in 20 games in the playoffs and has 12 points.
With the numbers Gaudreau has when facing the Jets I like his chances to outscore Scheifele in the opening round.
Gaudreau 2.25
Canadian readers can bet on this series Player Props at Sports Interaction
Follow @BetNHL
BetNHL.ca » Tonights Tips »