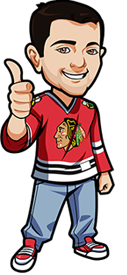 Written by Scott on Tuesday, July 7th, 2020
For this article we will go over some player props from the New York Rangers vs Carolina Hurricanes opening round series.
The Rangers played in 70 games and went 37-28-5 for 79 points. The Hurricanes played in 68 games going 38-25-5 for 81 points.
You can find these props and many more at Sports Interaction
Rangers vs Hurricanes Player Props Betting Tips
This is going to be a great series between two teams who surprised people with their on ice success this season.
Panarin 1.80 vs Aho 2.80
In case you haven't heard, Panarin is a superstar. He set a career high this season for goals, assists and points and did it in only 69 games 32g-63a-95p. He has played against the Hurricanes 16 times putting up 15 points. He has 27 games of postseason experience and has 26 points over those games.
Aho had a good season scoring 38 goals and 66 points in 68 games played. He has played against the Rangers 16 times scoring 9 points. He has been in the playoffs once playing 15 games for 12 points.
It's no contest in my opinion. Panarin just keeps getting better. He has been a point per game player in the regular season and postseason.
Panarin 1.80 
Zibanejad 1.83 vs Teravainen
Zibanejad had the best season of his career this year. He scored 41 goals, had 75 points in 57 games. He has played against the Hurricanes 25 times and put up 27 points. He has 8 points in 16 games of postseason hockey.
Teravainen was on pace to break his personal best the season. He played in 68 games scoring 63 points. He has played against the Rangers 20 times putting up 9 points. He has played in the playoffs 40 times scoring 21 points.
With Zibanejad having great numbers and playing with Panarin, where the have great chemistry, I like Zibanejad to outscore Teravainen in this season.
Zibanejad 1.83 
DeAngelo 2.50 vs Hamilton 2.25
DeAngelo had a breakout season this year. He set personal bests in goals assists and points. He played in 68 games putting up 53 points. He has played against the Hurricanes 11 times for 9 points. He hasn't yet played in the playoffs in his NHL career.
Hamilton only played in 47 games this season but put up 40 points. He has played against the Rangers 21 times for 10 points. He has played in 38 games in the postseason scoring 18 points.
With DeAngelo not having any playoff experience it will hurt him. It's a different game in the postseason than it is in the regular season.
Hamilton 2.25 
Sports Interaction is the place for Canadians to bet on player props for this and all series.
Best America Sportsbooks for NHL
BetNHL.ca » Tonights Tips » July 7th, 2020 Rangers vs Hurricanes Series Betting Props