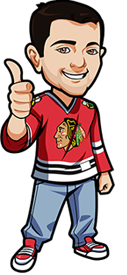 Written by Scott on Wednesday, July 8th, 2020
Follow @BetNHL
For this article we will go over the final series of the opening round and some of the player props we can bet on.
The Wild played in 69 games and went 35-27-7 for 77 points. The Canucks also played in 69 games and went 36-27-6 for 78 points.
You can find these player props at Sports Interaction
Wild vs Canucks Player Props Betting Tips
Another series where I really have no interest. I'm sure it will be a great series its just the teams involved don't excite me at all. They were close in the standings points wise so it could be a good one.
Pettersson 2.15 vs Miller 2.30
Pettersson tied his numbers from last year. He played 68 games scoring 66 points. He has played against the Wild 5 times scoring 3 goals and 4 points. He hasn't played in the playoffs yet so this will be new to him.
Miller had the best season of his career. He set career highs in goals assists and points. He played in 69 games for 72 points. He has played the Wild 13 times for 13 points. He has 61 games of playoff hockey while playing with the Rangers and Lightning putting up 26 points.
The stats would lead you to Miller being the pick here. But Pettersson is incredible and young and could use his playoff debut as a way to remind everyone just how good he is.
Pettersson 2.15
Staal 2.25 vs Parise 2.25
Another set of teammates here.
Staal had a down year but it's bound to happen as people get older. He played in 66 games and put up 47 points. Over his 16 year career he has played the Canucks 25 times scoring 15 points. He has been in the playoffs 5 times, won a Stanley Cup and has 46 points over 58 games.
Parise, much like Staal, had a down year mainly due to age. He played in 69 games for 46 points. Over his 15 year career he has played the Canucks 27 times scoring 17 points. He has lots of playoff experience playing in 97 postseason games and scoring 74 points.
These one is tough to call. They both had down years but incredible careers. Both have lots of playoff experience. But Staal has a Cup and thats the only difference between these guys so I'll go with Staal to outscore Parise in the opening round.
Staal 2.25 
Suter 2.65 vs Hughes 2.00
Veteran vs youngster here.
Suter put up yet another strong season. He played in 69 games for 48 points and had the season not been stopped be surely would have set a new career high as he was only 3 points away from tying it. Over his 15 year career he has played against the Canucks 53 times scoring 25 points. He has 78 games of playoff experience scoring 29 points.
This was Quinn Hughes first full season in the NHL. He played in 68 games and put up 53 points. He has faced the Wild 3 times for 4 points. He has no playoff experience in his young career.
Hughes was making a strong case to win the Calder Trophy. Hes a great young player and I expect him to have a great opening round and first playoff experience
Hughes 2.00 
Canadians can bet on these player props and any and all player props from the opening round at Sports Interaction
Follow @BetNHL
BetNHL.ca » Tonights Tips »