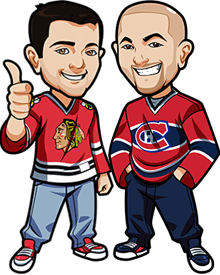 Written by Graeme & Scott on Saturday, June 1st, 2013
Follow @BetNHL
Well here we are – the conference finals. The Chicago Blackhawks vs the LA Kings, and the Pittsburgh Penguins vs the Boston Bruins.
For those who have followed us from the beginning – all we care about is the Penguins winning, because we have the following two bets:
Stanley Cup Final: Penguins vs Blackhawks (+3300)
Stanley Cup Final: Penguins vs Kings (+2750)
Obviously we'd prefer the Blackhawks, but we'll "settle" for the Kings haha.
Didn't get in on our Stanley Cup Finals Futures Betting Tips before the NHL Season began? Then make sure you don't miss out next year.
Insert your e-mail address below and whenever we post tips, you'll get them in your inbox.
As for today – Saturday, June 1st 2013 we have both games scheduled. At 5pm ET the LA Kings will visit Chicago to take on the Blackhawks, and following that game, at 8pm ET we will see the Bruins take on the Penguins.
We have no futures bets for these series. We spent some time discussing it yesterday but didn't see anything of value. We do however have a bet for both games:
LA Kings vs Chicago Blackhawks Betting Tips: Under 5 Goals
2.3 odds for this one over at Bet365 (Americans: We recommend http://www.bovada.lv.
We've no doubt that there will be some high scoring games in this series. Both teams have strong offenses and match up very well. In the regular season, the Hawks defeated the Kings 5-2 and 3-2, while LA had a big 5-4 win over the Blackhawks.
But going into this game so soon after both teams finished off a 7 game series? We see it starting slow. Both teams are going to be jaded from that, and it's going to take a bit for things to get into a rhythm. LA have been horrible on the road all through the playoffs and we don't see that changing here – but Quick won't be as jaded as the rest of the team, and will be able to hold down the fort.
We're expecting a bit of a subdued game here. There'll be explosive games in this series for sure but we don't think this'll be one. Take the Under 5 goals at Bet365 (Americans: We recommend http://www.bovada.lv and snag the bonus they have there.
Penguins vs Bruins: Goal Before 9:30
In contrast to the Kings-Blackhawks game, we've got two well-rested teams ready to go. And not sure if you know but the Penguins offense? Yeah they're pretty damn awesome.
Boston have had quite the playoffs thus far, as have Pittsburgh. Both struggled in round 1 and then both completely dominated in round 3. During the regular season these two teams matched up very well, but the Penguins always had that little finishing touch every time to squeak out the sweep.
We like this series to start off fast, and with a lot of energy. Pittsburgh will want to make a statement right from the off and will attack strong, aiming to get a lead and put Boston on the backpedal from the beginning.
Best odds for this are at Bet365 (Americans: We recommend http://www.bovada.lv
Follow @BetNHL
BetNHL.ca » Tonights Tips »