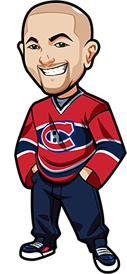 Written by Graeme on Monday, June 12th, 2023
Follow @BetNHL
Well, this could be the last time you are hearing from us until closer to the new season.
The Vegas Golden Knights won Game 4 to take the series back to Nevada, for a likely gentleman's sweep.
If this is the end of the write-ups, we just want to thank everyone who followed us in what was yet another profitable season. It's been a lot of fun this year, and I'm excited for next season due to really feeling I have a strong grasp on advanced metrics now.
They've helped me out a lot during the regular season, and made for an extremely profitable playoffs.
Looking forward to next season. And I'll throw in a quick plug for my Patreon where you currently get daily MLB tips by Vin, and I personally cover F1 and Golf there at the moment. F1 in particular has been nice and profitable.
Knights vs Panthers Betting Tips:
Scott: Well the Knights can win their first Stanley Cup in this game and it will be at home.
They were up 3-0 but the Panthers didn't give up and managed to get it to 3-2 but the Knights withstood their attack.
The penalties were way down in game 4 with each team only taking 1.
But the Knights are such a deep team that it's impossible for the Panthers to try and contain one line. Stephenson, Marchessault, Stone, Eichel the players that can and are contributing for them is intimidating.
The Panthers were able to comeback to win the series against the Bruins after being down 3-1 but the Knights are playing so well that it's going to be near impossible to win 3 straight against them.
No Bet but not going to be surprised when the Knights win the Cup at home.
Graeme: There's really nothing new to add. Nothing has really changed in this series. Panthers I feel have been a bit unfortunate. They've put up solid metrics in 5 vs 5, but the difference has been the clinical finishing of the Knights.
You can't count Florida out though. Looking at all situations, they're converting 2.21 GF/60 out of xGF/60 of 3.19. Knights are overperforming with 4.17 GF/60 with an xGF/60 of 3.57.
The Panthers offense has just been shocking at converting in the series.
It's hockey, that can all turn at a moments notice.
Knights in Regulation is probably the play here if you're looking for something. Honestly if you think Florida is done, Knights -1.5 at 2.55 odds is the better play. While I thought I was done betting, I'm thinking I might sprinkle a half unit on that one.
Enjoy the game.
Follow @BetNHL
BetNHL.ca » Tonights Tips »