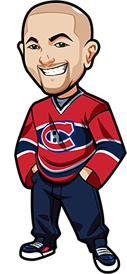 Written by Graeme on Saturday, June 13th, 2020
Follow @BetNHL
So the NHL has hit another slight roadblock with an unnamed Bruins player pickingup COVID-19. Unless there is a mass spread of it however I don't see it being an issue.
Probably Marchand. Everyone else is staying at home in lockdown and he's out eating bat soup and licking people hooked up to ventilators. Nothing would surprise me with him these days.
We've entered "Phase 2" in Ontario which means patios re-open, malls, barber shops etc etc. Was quite sad seeing people lining up for over 2 hours yesterday at barber shops. Like do people not have any better to do? I understand if you haven't had a haircut in a couple months (I just cut my own hair) but I mean you surely don't need it that badly. No masks, no social distancing etc. People learned absolutely nothing.
The NHL will be entering Phase 3 on July 10th. Still no set date to return. I have a feeling they might wait until August after the NBA has started up for a week just so they can monitor how that goes.
Soccer / Football is opening up everywhere now. We've got the EPL back this week, La Liga just kicked off, not too long for Serie A either. There's golf on the go too. Of course, UFC etc.
It's funny as someone who watches sports religiously both for betting and entertainment purposes – I'm almost finding it overwhelming at this point. I'm just glad the NBA and NHL are taking things slow.
I'm looking forward to that MLS Cup tho that's for sure.
Looking at tomorrows soccer games there really isn't much I am loving. Going to cover WWE Backlash instead which takes place tomorrow night.
I've already got tips up on my podcast and then over at BetWWE.com but things have changed since then. The odds have changed for some and also there was a big reshuffle backstage and Paul Heyman is no longer in charge of RAW so that may affect things.
So I will be taking things from a fresh perspective on here that may contradict what I wrote or talked about.
WWE Backlash 2020 Betting Tips:
You can of course watch this on the WWE Network for only $9.99 a month.
Bet it at 888 Sports or if you are American, BetOnline.. I'll be using 888 Sports for this due to the props they have.
I like Over 4.25 stars in Edge vs Orton assuming Dave Meltzer gives it a rating. They'll be able to clean it up etc and I think they will put on a damn good match. Plus their godawful Mania match is still fresh in everyones minds so that will be a step up.
Bobby Lashley is another underdog at 4.00 odds worth a small bet. Rumours of WWE wanting Lashley vs Lesnar at Summerslam. I can't see them killing Drews reign but I mean he is a Heyman project so who knows.
With Heyman losing power I don't hate Andrade winning either at 4.00 odds.
Interestingly on the podcast and betting tips site I backed Sheamus to win at like 2.50 odds and now he is the favourite at 1.50 odds. Often happens with some of my tips. Anyway I think that's a real 50/50 match so at this point Jeff Hardy is a value play.
Bet it at 888 Sports or if you are American, BetOnline..
Follow @BetNHL
BetNHL.ca » Tonights Tips »