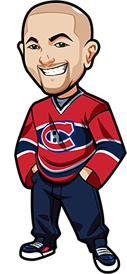 Written by Graeme on Sunday, June 14th, 2020
Follow @BetNHL
If you're a soccer fan this is quite the big week. I know I'm looking forward to it.
The Bundesliga and La Liga are in full swing and we have games every day. The English Premier League returns on Wednesday, and the Serie A in Italy returns on Saturday.
I won't be writing here again until Friday so if you want to see my soccer tips, I'll be posting them over at BetSoccer.ca every day.
Nothing really new in the hockey world. Anyone go to NHL.com over the last little while? it's so depressing seeing the content. Now they're doing a Redraft of the 2004 draft, talking about mascots being inducted into the mascot hall of fame, and videos of McDavid shooting drills in his garage.
Enthralling stuff.
Today I thought I'd do something different as there's not much soccer to cover tomorrow and I've already covered that. Some online sportsbooks are having fun with non-sports betting opportunities and different style of bets and I thought I'd highlight them.
BetOnline.: One of the best sportsbooks in terms of different bets. They have a complete lineup of America's Got Talent bets. You can bet on the type of winning performer such as Music Act, Magic Act, Dance Act. If certain people will win such as Roberta Battaglia or if a Golden Buzzer will win.
I haven't been watching AGT this season. I've watched a bunch of it in the past but man it's just too much these days. Such sob story bullshit every time.
You can also bet on the Merriam-Webster Publishing Word of the Year over at BetOnline.. COVID-19 is the favourite followed by Coronavirus. Last year it was "They". Interestingly despite it being all coronavirus related bets, I know Merriam-Webster are revising the racism definition and it might be more related to that instead. Doing some keyword research, I actually think "Coronavirus" at +200 might be the best bet there.
Bet365 (Americans: We recommend http://www.bovada.lv never go too crazy but hey do have a "Specials" category and a Politics category. The politics you can bet on UK, US, Australian and New Zealand elections.
The Specials category allows you to bet on Britain's Got Talent. My own opinion but that's a vastly superior show to AGT but then I grew up with Ant & Dec and I appreciate the humour more.
Bovada for Americans) is usually good for different style of bets. Over there you can bet on Cryptocurrency such as the Bitcoin Price at a certain time, the Hot Dog eating Contest and quite a few other things.
Another solid option is William Hill. They cover a variety of events such as Britains Got Talent, Strictly Come Dancing, who the next James Bond will be and the BAFTA TV Awards.
Anyway if you're looking for some non sports bets, those are some fun ones to do. I must admit I usually bet on TV shows like Americas Got Talent etc. It's always fun betting against a music act then cheering against them and so on. Gets me actually interested in the show. Even crap like the next James Bond – can be fun betting on that and then monitoring it.
Anything you guys regularly bet on outside of sports?
Follow @BetNHL
BetNHL.ca » Tonights Tips »