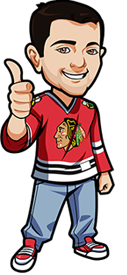 Written by Scott on Monday, June 15th, 2020
Follow @BetNHL
Another day with no new news regarding the NHL and its return to play. It would be much better if we has an exact date when the league would be resuming but we don't.
For todays article I want to go over a team that didn't qualify for the postseason and discuss why I think it happened and what the future looks like for them.
Buffalo Sabres
The Sabres missed out on the postseason going 30-31-8 for 68 points which was only 3 behind the Montreal Canadiens who finished the season with 71 points and made the playoffs which shocked and upset many people
For Sabres fans to miss out on the playoffs by only 3 points stings but with the way things have gone for this team in the last few seasons it really shouldn't come as a surprise. Despite only playing in 69 games they had 68 points but they haven't qualified for the postseason since 2010-11 when they had 89 points. Since that season their point totals have been bad having seasons with; 48 (in 48 GP), 52, 54, 81, 78, 62 and 76.
On paper this team should have been much better than their play on ice. Jack Eichel is a superstar and he is getting fed up with the situation "I'm fed up with the losing and I'm frustrated," he said. "It's been a tough past couple of months and a tough past five years." He has led the Sabres in scoring for the last 4 years but the team hasn't added any players to help him take the team to the next level. Jeff Skinner had a great year last season scoring 40 goals but this season he managed only 14.
Besides those two they have Sam Reinhart and Victor Olofsson who put up decent numbers of 50 and 42 respectively. On defense they have Rasmus Dahlin who looks like he is going to be a star defenseman for years to come. He had 40 points in 59 games played this season. I'm not sure that they should just settle for having only him they need more help.
In goal they had Ullmark and Hutton either of them are a true #1 goalie and are more of a backup. They need to find a #1 goalie which is hard to do in the draft and free agency.
The Sabres need to pick up a couple of wingers to play with Eichel and help take on some of the offensive responsibilities also adding a couple centers as teams who have success are deep down the middle. They also need to add some defensemen to help Dahlin. Oh and they also need a true #1 goalie. So basically they need a lot of help.
They will be drafting early in the upcoming draft so they will need to hit a homerun. To keep Eichel happy and wanting to stay in Buffalo the team needs to address some
of their issues and show him that his frustration is known and that they are trying to help make the team better.
Thankfully for the Sabres some of their best players are all young. Casey Mittelstadt is only 21 and has potential to join Eichel, Olofsson, Dahlin and Reinhart to form their future core
Follow @BetNHL
BetNHL.ca » Tonights Tips »