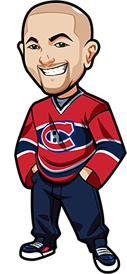 Written by Graeme on Wednesday, June 15th, 2022
Follow @BetNHL
Well we are down to just two teams left, as the Stanley Cup Finals begin tonight.
The Tampa Bay Lightning make yet another final, and they will be hosting the Colorado Avalanche.
Tampa got here by defeating the Toronto Maple Leafs in a feisty series that went to Game 7. They sweeped the Panthers off the back of some hot goaltending. They started slow against the Rangers, but then were able to take over.
The Colorado Avalanche got here thanks to two sweeps. They sweeped the Preds and Oilers, and also defeated the Blues 4-2.
This feels like a final that was meant to be, and could be a real passing of the guard moments. Here are our thoughts:
Avalanche vs Lightning Bets:
Graeme: Well I gotta say – man, I have been crushing these series predictions. I got both conference finals correct. That puts me at an impressive 10-3 for 8.07u. Pretty happy with that as futures can be so risky – even if it is over just a few games.
We saw these two teams face off twice in the regular season. Avs won both. Tampa had the better xG in both. In the February 10th game, Tampa had a ton of high danger chances but couldn't convert.
Looking at the offensive metrics for teams at /60 throughout the playoffs – Avs have the 2nd highest Corsi For. Panthers had 4th highest and Tampa stifled them. Avs have lowest CA/60 and Lightning had no problem against Panthers #3 or Leafs #4. Very similar Fenwick metrics.
Tampa never really faced a team with high xG though (Panthers #10, Leafs #12, Rangers #16) which is interesting as the Avs have the 3rd highest xG. Avs actually have the lowest xGA/60 as well.
Basically going through all this – the Avs are freaking excellent, and it will take a LOT to actually beat them. They're better against Tampa So do Tampa have what it takes?
They're better than Tampa in every advanced metric. The odds right now are about Avs 1.58 and Tampa are 2.50.
That seems absolutely dead on I would say. Like if I was setting lines yeah that seems about right. What that means is there is really no value in taking either.
So I hate to say this – but in my opinion, there is no value in betting on a winner, and I don't see any value in the handicaps either. Tampa will need Vasy to step up bigger than ever but we know he can do that. If you want to get to the nitty gritty then Avs -1.5 is fine to bet IF you don't believe he can stop them.
Yeah – I honestly don't know here. I'm just going to throw out a prop bet pretty much for the fun of it here. Series to be tied after 4 games at 2.45 odds.
Honestly from a serious betting perspective – I'm probably done for the year. I think I'll be doing small prop bets for individual games but it's hard to see if there will be any good angles.
Scott: The Avalanche have again had plenty of time off to prepare after they swept the Oilers. They are 12-2 in this postseason after sweeping both the Oilers and the Preds and winning the series against the Blues 4-2.
Makar is leading the team in points in the playoffs with 22. MacKinnon is behind him with 18 and Landeskog and Rantanen both have 17. A big question they have is who they will have between the pipes in game one. Kuemper was great but suffered an injury in game 1 and the Avs went with Francouz who was great and won the next 3 games for them. With Kadri expected to miss the remainder of the playoffs, the Avs depth will be needed and tested in the finals.
The Lightning are all to familiar with the position they find themselves in. For the 3rd year in a row they will be playing for the Stanley Cup. The beat the Leafs in 7 games in round 1, swept the Presidents Trophy winning Panthers in round 2 and just beat the Rangers in 6 games in round 3.
Kucherov leads the team in playoff scoring with 23 points in 17 games, Palat has 16 and Stamkos 15. Hedman has played a big role in their success this postseason as he has 14 points and averaging almost 25 minutes per game. Vasilevskiy has regained his play and gives them a chance to win each and every game. Point might be back for them and he will go a long way towards their three-peat.
This should be a great series between two of the best offensives in the league. The Lightning have the major edge in goaltending but they have played a bunch of hockey over the last 3 seasons and that may catch up to them. The Avalanche will come into this series rested but will their goaltending be good enough to stop them?
Tough to call a winner here and I think this series could be a long one. If I had to pick a winner I would say the goaltending will be the difference and the Lightning have the best shot but its bet against the Avs at this point when they will be rested. I wanted to go with Over 5.5 games but the odds for that were bad so I'll go with when the series will end.
Series ends in 6 games – 3.10 odds.
Follow @BetNHL
BetNHL.ca » Tonights Tips »