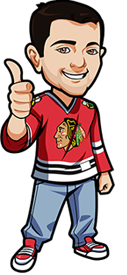 Written by Scott on Tuesday, June 16th, 2020
Follow @BetNHL
For todays article I want to go over another team that didn't qualify for the postseason. In total there were 7 that didn't make it so it must feel terrible to be included in that group when 24 others got in. But thanks to the current situation we are living in this is what we get.
New Jersey Devils
The Devils went 28-29-12 for 68 points and, like the Sabres, missed the postseason by 3 points as the Habs got in and they had only 71 points.
The Devils looked like a team that could do some damage heading into the season. They had Taylor Hall who had just won the Hart Trophy in 2017-18, they added some big names in the offseason and expected some improvement from their youngsters.
The season started and it was clear the Devils were going to struggle. They lost their first 6 games of the season and won only 2 in the whole month of October. Towards the end of the season thwy started to play some decent hockey but it was too late at that point.
They decided early on that they were out of the playoffs and became sellers early. First the traded Taylor Hall, then came Blake Coleman, Andy Greene, Wayne Simmonds and Sami Vatanen. So although this team lost a bunch of talent, they gained some valuable pieces that will help them in the future.
They still have some young and promising players to build around at forward. Nico Hischier, Jack Hughes, Joey Anderson and Jesper Bratt are all good players and Hischier and Hughes have a ton of potential.
On defense is a spot where this team needs work. Subban had a rough year and I'm sure he will have a bounce back season soon. Will Butcher is another who is due for a bounce back year.
In goal they got a nice surprise when MacKenzie Blackwood had a good year. We started 43 games, won 22, had a GAA of 2.77 and a save percentage of .915. He's only 23 years old so let's hope the Devils can get him locked in as the starting goaltender for the next while.
This team started the season and looked, on paper, like a decent team. But things just didn't go their way. But looking forward they have some solid pieces to bulld around. Hischier, Hughes, Blackwood, Butcher, Bratt and Anderson are good pieces to have in your core and Subban is only 31. They get another high draft pick here who will only deepen their already great prospect pool so this team shouldn't be long before they can get back into the playoff mix.
Follow @BetNHL
BetNHL.ca » Tonights Tips »