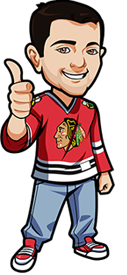 Written by Scott on Wednesday, June 17th, 2020
Follow @BetNHL
It's June 17th and we are getting closer to the day that the playoffs begin. Not sure exactly when that day is but we are creeping towards July.
For todays article I want to go over another team that didn't qualify for the postseason, this time it's the Anaheim Ducks. It's strange to see the Ducks struggling so much after being such a consistently good team. But that happens when you have two incredible players like Ryan Getzlaf and Corey Perry who have declined as they have gotten older but in their primes were as good as anyone could ask for.
Anaheim Ducks
The Ducks played 71 games and went 29-33-9 for 67 points.
They have missed the playoffs now for 2 straight seasons after making the postseason 6 years in a row. Their .472 points percentage this season is their worst showing in 17 years.
They still have some decent talent but its time to accept the fact that they need to have a full on rebuild.
The had a lot of success with Getzlaf and Perry and added Ryan Kesler. Perry was bought out and Kesler had a season ending hip surgery and having both veterans gone for the year really hurt their chances. Their leading point getter was Adam Henrique who managed a lousy 43 points in 71 games played. Thats ok for a depth guy but to have that as your leading scorer won't cut it. They still have Rakell and Silfverberg, who are both under 30 years old, but they need some of their youth to take the next step.
On defense the team has a little more hope then it does on offense. Hampus Lindholm is a decent defenseman. He is young and should be a huge part of the Ducks roster going forward. Cam Fowler had one of his better seasons in a while. Josh Manson is a rough, defensive defensemen, who missed time with an injury, both are under 30 so with Lindholm they have a decent top 3 to build off of.
In goal John Gibson is their goalie going forward. He had one of his worst seasons this year but it's hard to fault him when the team in front of him was so bad. He's only 26 years old so he is entering his prime and it would be a shame for the Ducks to waste his best years without giving him the help he needs.
They have some youngsters with potential but it remains to be seen just how good they will be. Sam Steel, Max Jones, Trevor Zegras and this year's draft pick will be counted on to become the teams new core. But trying to replace they success that Getzlaf and Perry achieved for this team is going to be hard to do.
They should go full rebuild and hope they can strike gold with Gibson and Lindholm two major pieces to build around. They need to find a way to get rid of some salary to make moves but if and when they do that it will be a step in the right direction.
Follow @BetNHL
BetNHL.ca » Tonights Tips »