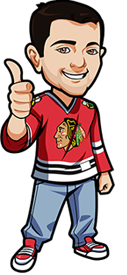 Written by Scott on Thursday, June 18th, 2020
Follow @BetNHL
The next team on the list is yet another team from California. There are 3 teams from California in the NHL and all 3 have been eliminated from this seasons version of the Stanley Cup playoffs.
It wasn't that long ago when the Kings won 2 Stanley Cups in 3 seasons. But aged has crept up on them and they now have missed the playoffs for the last 2 seasons.
Los Angeles Kings
The Kings played 70 games and went 29-35-6 for 64 points. They picked up their play late in the season winning their last 7 games but by the time the season stopped they were way out of contention.
As mentioned above, the Kings have had lots of success in the last 8 seasons before the last two . They won the Cup twice and lost in the Conference Finals once and the Conference Quarterfinals twice. To have that kind of success requires teams to trade away lots of draft picks.
But once the Kings went with former player and team captain Rob Blake as the teams GM, they have been keeping their draft picks. In the 3 seasons with Blake they have kept their 1st rounders and also acquired another and they were all high draft picks.
This team is aging out. They had some amazing seasons and captured 2 Cups which were the first in franchise history. And remember the Kings also had Wayne Gretzky and Luc Robitaille and couldn't win one with them so that tells you just how good this team was.
At forward they are led by Anze Kopitar who seems to have a decent year and follows it by a down one. Also Jeff Carter can still score goals with the best of them and Dustin Brown is a good team player. But all three of these players are older than 30 and their best hockey is behind them. They have Gabe Vilardi, Rasmus Kupari and Alex Turcotte to look forward to in helping the team adjust to life after Kopitar and co.
On defense they have one of the best in Drew Doughty. But he is also over 30 years old and behind him they don't have much help. They traded away Alex Martinez and Derek Forbort during the season so they need help defensively and fast. They have Tobias Bjornfot and Mike Anderson as youngsters but who knows when they will be ready to play major NHL minutes.
In goal they have Jonathan Quick who is and has been great. But much like the rest of the team he is north of 30 and age will catch up with him. He played well after the all-star break having a .927 save percentage. They traded away Jack Campbell to the Maple Leafs which opened the door for Cal Petersen who won his last 4 starts and had a save percentage of .922 over that span.
The Kings have work to do. They still have all of those talented players from their Cup winning seasons and it will be hard for them to do a full rebuild with them still in the mix. But when the time comes and the Kings fully embrace a rebuild they will have cap space and who wouldn't want to live and play in California. I mean awesome weather year round has to be a huge selling point
Follow @BetNHL
BetNHL.ca » Tonights Tips »