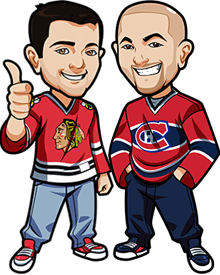 Written by Graeme & Scott on Tuesday, June 1st, 2021
Follow @BetNHL
The Toronto Maple Leafs lost to the Montreal Canadiens yesterday in their usual choke job to be eliminated from the Stanley Cup playoffs.
The best part about the health care workers being there were the jokes like this:
"As if the healthcare workers haven't been punished enough this year"
"Would've thought that having healthcare workers there would help save them from choking…"
"At least they brought in 500 front line workers to confirm that the Leafs are dead"
Well….that's the second best part. The best part would be – remember back when we did our series predictions? Graeme took the Habs and said he was only doing it so he could place a bet on them and rub it in the faces of all his friends who are Leafs fans?
Well here's the betting slip which I've been sharing to many of them today:

I'm so excited for being able to drink with them again at pubs etc – proudly declaring "Your Leafs paid for these drinks" as I pay my bill.
THANK YOU MONTREAL.
The Bruins lost to the Islanders yesterday in a tight one. Will be interesting seeing howe that one goes as they switch venues.
Today we've got just the one game as The Carolina Hurricanes host Tampa.
Hurricanes vs Lightning Game 2 Betting Tips:
Scott:Vasilevskiy was great in game 1 making 37 saves in the Lightnings 2-1 win.
I do expect this to be a close series and after the score of game 1 its looking like it will be.
The Canes are a good team and they can't lose both home games to start the series if they want to have a shot.  The Lightning are familiar with winning on the road during the playoffs so they Canes need to come at them early and set the pace.
Hurricanes win incl OT
Canada: 1.88 Odds at BetOnline..
USA: -113 Odds at BetOnline..
Everyone Else: 1.88 Odds at BetOnline..
(Odds correct as of 2021/06/01 11:22:24 AM EST but are subject to change.)
Graeme: It was a tight win for the Lightning in Game 1. Vasilevskiy did a solid job there.
It's tough to back an over with the quality goalies but I just feel this game will go off. As Scott said, Canes really don't want to be going there with an 0-2 record.
We saw some real high scoring games in both the Canes and Lightning series that they played prior to this one, and I just have a gut feeling we see that again tonight. I think Canes will be in desperation mode and we know Tampa are fairly decent at getting the puck in the net.
Over 5.5 Goals
Canada: 2.10 Odds at BetOnline..
USA: +110 Odds at BetOnline..
Everyone Else: 2.10 Odds at BetOnline..
(Odds correct as of 2021/06/01 11:22:24 AM EST but are subject to change.)
Follow @BetNHL
BetNHL.ca » Tonights Tips »