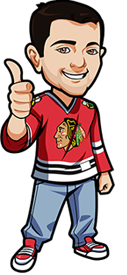 Written by Scott on Tuesday, June 23rd, 2020
For this article we will go over the Ottawa Senators. This team has faced a lot of problems both on and off the ice but are now in position to right their recent wrongs. Of all the teams that didn't make the postseason the Sens have the best potential moving forward.
But when and if the Sens can live up to that potential remains to be seen. They still have plenty of on ice issues to deal with but if you are a fan of the Ottawa Senators then you are probably excited to see what the future holds.
Ottawa Senators
The Sens played 71 games and went 25-35-12 for 62 points.
We knew this team was going to be bad. The team already had moved Mark Stone, Matt Duchene and Erik Karlsson who were the best players on the team and expecting a group of youngsters to carry the team was a recipe for disaster. If not for the Red Wings having such a terrible year the Sens would have been dead last. At the trade deadline the team continued their dismantling moving Jean-Gabriel Pageau, Vladislav Namestnikov, Tyler Ennis and Dylan DeMelo. It hurts I'm sure to be a fan of the Sens and to see them completely change the teams roster over but moving forward it was the right thing to do.
At forward the have Brady Tkachuk, Connor Brown and Anthony Duclair who will be counted on to provide the team with offense. Also Colin White has potential. In their system they have Drake Batherson, Logan Brown, Josh Norris and Alex Formenton to look forward to so things are going to get better for the Sens and more help is on the way. They have their own first round pick and the Sharks pick thanks to the pick they received in the Karlsson trade. The Sharks were bad this year too so the Sens have a 25% chance at snagging the top pick which would be used on Alexis Lafreniere.
On defense the Sens have a great start on building a strong group. Thomas Chabot is good and only going to get better. He played a league high 26 minutes per game. They also have Erik Brannstrom who is going to be a star in this league and decent return they got from the Knights for trading Stone. With Chabot and Brannstrom they are heading in the right direction.
They need to address their issues in goal. Craig Anderson is 39 years old, and Marcus Hogberg and Anders Nilsson haven't proven to be a reliable starter yet.
But of all the teams that missed the playoffs the Sens have the best chance to turn things around and sooner rather than later. The have about 40 million in cap space so they will be able to add needed pieces and with all of the youth they have coming up they can take their time and not spend a pile on a veteran right away. Having two first round picks, which are going to be high, is going to kick their rebuild in the right direction. They could be picking twice in the top 3 so even if they don't get Lafreniere they will get two of Quinton Byfield, Tim Stutzle, Jamie Drysdale, Marco Rossi or Lucas Raymond. So yeah this team could be a deadly squad in the near future.
Best America Sportsbooks for NHL
BetNHL.ca » Tonights Tips » June 23rd, 2020 Ottawa Senators