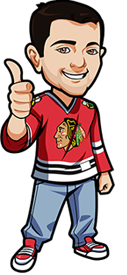 Written by Scott on Wednesday, June 24th, 2020
Follow @BetNHL
The final team on the list of teams that didn't make the playoffs is the Detroit Red Wings. They had a terrible year and it was the first with Red Wings legend Steve Yzerman as GM. But they knew they were going to be bad but I'm not sure anyone thought they would be this bad. They had the worst point percentage since the Atlanta Thrashers, remember them?, in 1999-2000.
The Red Wings were going to tank and I guess if thats what they were aiming for then they hit a homerun. Of all the teams eliminated from the playoffs the Wings deserved it as they were out for a while now.
Detroit Red Wings
The Red Wings were bad. Really bad. They played 71 games and went 17-49-5 for 39 points good for last place in the league by a wide margin
They scored a league worst 2.00 goals per game while allowing 3.73 against per game. So it's no surprise when you put numbers like that on the board that its going to be a disaster. To throw salt on the wound they were the worst penatly killing team in the league and also averaged the fewest shots.
They have Dylan Larkin, Tyler Bertuzzi and Anthony Mantha who were a good line but it was rough after them. But Yzerman kept a bunch of talent in the AHL knowing that they were going to be bad. Next season they will look like a different team with the players from the AHL on their team. Filip Zadina, Michael Rasmussen and Joe Velano will be counted on to be the teams new wave of offense. If Robby Fabbri can stay healthy then we will put up numbers and he's only 24 years old.
On defense the Wings have some players to look forward to. Moritz Seider is going to be a star in the NHL. Filip Hronek, Gustav Lindstrom and Madison Bowey are also players who the Wings have that will be counted on moving forward. With those 4 as the Wings defense for the next few seasons, they look to be headed in the right direction.
In goal is where the Wings need help. Jimmy Howard used to be their guy but I'm not sure he has anything left at 36 years old. He started 27 games and won 2. Thats not a typo. He had a 4.20 GAA and a .882 save percentage. Jonathan Bernier started 41 games but he is better suited to be a backup goalie. They have Eric Comrie but not sure he can be a starter in the NHL.
The Wings have lots of prospects to look forward to and their top line of Larkin, Bertuzzi and Mantha are great and still young. The Wings have lots of cap room to add some help and for the Wings hopefully they can find a goalie with all the extra money Stevie Y will have. It won't be long before this team is back in the playoffs.
Follow @BetNHL
BetNHL.ca » Tonights Tips »