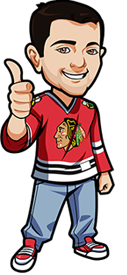 Written by Scott on Monday, June 29th, 2020
Follow @BetNHL
For this article we will go over some of the player props that we can bet on from the Blue Jackets vs Maple Leafs series. This may be the most watched series in the opening round.
You can find these props and many others for this series at Sports Interaction
Jackets vs Leafs Player Props Betting Tips
Some big names are involved in this series. Its an offensive team versus a defensive one. Should make for some great hockey.
Dubois 2.95 vs Tavares 1.77
Dubois has played against the Leafs 8 times in his career scoring 4 goals and adding an assist. This season he played in 70 games and had 49 points.
Tavares has had success against the Jackets in his career playing them 27 times, scoring 14 goals and adding 19 assists. He played in only 63 games this season but put up 60 points.
Tavares is one of the main pieces on a talented Leaf team. They have lots of weapons so its hard for an opposing team to focus only on him which would allow the other players to do there thing.
Dubois is good but in this series I like Tavares to out score him
Tavares for 1.77 odds is my pick here.
Matthews 2.20 vs Marner 2.30
Matthews has faced the Blue Jackets 8 times and has 3 goals and 2 assists. This season he had 80 points in 70 games.
Marner only played in 59 games but put up 67 points. Over his career he has played the Blue Jackets 11 times and has 12 points.
Marner doesn't get as much respect as he deserves but playing with Tavares and Matthews will do that. Matthews was diagnosed with Covid-19 so I'm not sure how much that will hurt his play. He will be there as his quarantine will be finished before then.
Marner for 2.30 is my pick
Jones 2.25 vs Barrie 2.50
Jones is coming back from an injury and he's ready to get going. Over his career he has played against the Leafs 17 times and has 12 points. During the season he played in 56 games and had 30 points.
Barrie was rumored to be on the block but remained a part of the Leafs. He has played the Jackets 15 times over his career and put up 11 points. This season he played 70 games and had 39 points
Thanks to the stoppage due to covid Jones will be making his return. I expect him to have a big series for the Jackets.
Jones for 2.25 odds is my pick
You can bet on any and all player props for this series at Sports Interaction
Follow @BetNHL
BetNHL.ca » Tonights Tips »