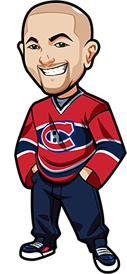 Written by Graeme on Thursday, June 2nd, 2022
Follow @BetNHL
Game 1 of the Lightning vs Rangers series is in the books, and it was a good one! It started off with an early goal, slowed down a bit then the Rangers just went bananas.
How Tampa didn't score at least one goal in the dying minutes I don't know but that was an impressive win for the Rangers.
Tampa looked a bit rusty due to the break. It's funny how some teams seem to thrive on that while others it can affect so much. Vasy as well had a bad game. Game 2 will be crucial due to Vasy's record – if the Rangers could win there, that would be massive.
I'm upset that I couldn't find any good odds on over 5.5 games in that series.
We turn our attention to Avalanche vs Oilers next. This one is barely hanging in there at over 7 goals.
Oilers vs Avalanche Bets:
Scott: Holy shit. Game was crazy.
In the first 2 rounds the Oilers got pounded in game 1 but bounced back and won game 2. I'm not sure that will be the case for tonight. The Avs game 2's saw them put in their worst efforts of each series with an overtime win against the Preds and a 4-1 loss to the Blues.
This series is going to be nuts. I'm tempted to back the Oilers to win as the odds are good but the Avs are a well oiled machine and will be a tough game for the Oilers while they are still at home.
Over 7 incl OT
Graeme: These are always weird spots. During the regular season we pick and choose what to bet. While we can pass on games if we want during the playoffs, we usually always try and have a bet.
But I mean after that last game there doesn't feel like much to analyze. It was mental with high offensive metrics. Both teams scored 4 high danger chances each.
Could things die down? I mean maybe. But yeah when you're watching a game like this, based on the first game, you just want more of the same. I'll be going with over 7 tonight as well because hey why not. There's various goalscoring props I could look at instead such as which team gets to 3 goals first etc but man for this one you just want to sit back and cheer on goals.
Follow @BetNHL
BetNHL.ca » Tonights Tips »