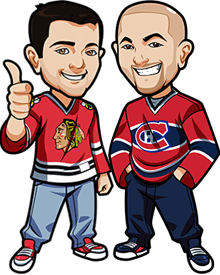 Written by Graeme & Scott on Thursday, June 3rd, 2021
Follow @BetNHL
Two good games yesterday in the NHL playoffs.
The Montreal Canadiens discovered their shooting boots (or skates) and although the Jets got past Price three times, it wasn't enough as the Habs beat them 5-3.
The story of that game was that brutal hit by Scheifele. Going to be interesting seeing how that affects things – Edmundson as already said that Scheifele is going to get the shit kicked out of him if he plays again during the series. Should make for some emotional driven games.
Latest word is Evans is doing okay although understandably, is shook up.,
What a class act Ehlers was during that.
It was a tighter game for the Colorado Avalanche but they were able to beat the Knights 2-0. It was a bit of a soft call that resulted in the PP but it is what it is. Game 3 will see the Knights at home in front of a sold out crowd and should be interesting. This team is not out of it yet.
We've got two Game 3's today. Pitter patter.
Islanders vs Bruins Game 3 Betting Tips:
Scott: The series is tied at a game apiece.  The Isles started Varlamov in place of Sorokin and he picked up the overtime win.
With the series moving to New York I expect the Isles to be feeding off of the home crowd.
The Bruins had the early lead but the Isles stormed back scoring 3 unanswered in the 2nd.  The Bruins scored twice in the 3rd to take it to overtime.
The first two games both hit 7 goals so I like the scoring to continue in this game.  The Islanders will have the home crowd to give them the extra push,  the Bruins will need to score early and often to take the crowd out of the game.
Over 5 incl OT
Graeme: The Islanders will come into this one on the back of a big overtime win with momentum. Now they've got their fans there cheering them on as well.
It's looking like they will get 12,000 fans there and they will be loud.
Varlamov looked good for the Islanders and stepped up.
I lean Islanders win at 2.20ish odds. That's a hell of a price. But I gotta go with Scotts thinking here – Over 5 in a playoff game with the crowd there popping etc. Feel obligated to back that.
Over 5 incl OT
Canada: 1.81 Odds at Sports Interaction (SIA) + free $20 bet.
USA: -123 Odds at BetOnline..
Everyone Else: 1.81 Odds at BetOnline..
(Odds correct as of 2021/06/03 8:26:13 AM EST but are subject to change.)
Lightning vs Hurricanes Game 3 Betting Tips:
Scott: Well for the Canes this series couldn't have started any worse.  They lost both games at home and the series now moves to Tampa Bay for the next 2 games.
I'm not sure how the Canes are going to dig themselves out of this hole they are in.  They had a hard time beating the Predators with 4 of the 6 games in their round 1 series needing overtime.
With the Lightning at home on a 3 game win streak I like their chances in this game.
Lightning win in regulation
Canada: 1.99 Odds at Sports Interaction (SIA) + free $20 bet.
USA: -105 Odds at BetOnline..
Everyone Else: 1.95 Odds at BetOnline..
(Odds correct as of 2021/06/03 8:26:13 AM EST but are subject to change.)
Graeme: I love to bet a team like the Hurricanes when they are in the spot they are in, but the odds aren't the greatest.
Just based on the way things have gone so far it's hard to back Carolina. I mean this was a team that was 20-3-5 at home and Tampa beat them twice.
The odds of coming back from 3-0 are pretty much non-existent unless you're playing the Leafs, so this makes for the last chance for the Hurricanes.
I was really disappointed in the Canes offense in Game 2 honestly. I know they can perform so much better.
I'm going to stay away from this one. I know what Carolina are capable of but I don't think we see it tonight. It's looking like a Tampa sweep is on the cards. I can't even touch the over as that Canes offense is concerning me.
No Bet
Follow @BetNHL
BetNHL.ca » Tonights Tips »