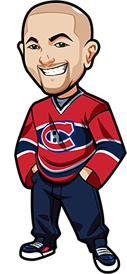 Written by Graeme on Friday, June 3rd, 2022
Follow @BetNHL
Well it was a bit of a surprising result last night, as two nights on from scoring 6 goals, the Edmonton Oilers were shutout against the Avs backup goalie, Pavel Francouz.
When I had looked through the metrics for the series predictions, the one thing that really stood out to me was the Avs defensive metrics which I mentioned. How on paper they would limit the chances the Oilers would get, that it would be their toughest defensive matchup yet etc.
Then I was ready to throw that all out the window after Game 1. Oilers mustered up just a 1.22 xGF in that one and just 7 HDCF. This was the type of stats that honestly would have been expected by me based on the metrics for both teams for the season. So it will be interesting to see if Game 1 or Game 2 ends up being the anomaly.
We turn our attention to the Rangers vs Lightning series tonight. The New York Rangers got a massive 6-2 win in Game 1.
Rangers vs Lightning Bets:
Scott: After 9 days off the Lightning looked a little rusty. The Rangers looked great in game 1. Chytil scored twice and has been a big part of the Rangers success. He scored 8 goals in 67 games during the regular season but now has 7 in the 15 games this postseason.
As good as the Rangers played in game 1, The Lightning will be looking to get back on track now that they are back to playing consistently. I expect a better game from Vasilevskiy in game 2 also.
The Rangers have won a franchise record 7 straight home playoff games. I picked the Lightning to win the series and for that to happen they will need to win one in New York and end the Rangers streak.
Lightning win incl OT – 1.76 odds
Graeme: I've said it before – a lot during that Rangers vs Hurricanes series – but at this time in the playoffs, you stop really diving into metrics and just base bets based on surface level data.
Vasilevskiy – we know what we can do especially in game 2s or bouncebacks. The Lightning responded big after that drubbing by the Leafs.
I'm going with Lightning in Regulation at 2.35 odds. Based on how I feel about this game, if they win they should be taking it in regulation, not OT.
Follow @BetNHL
BetNHL.ca » Tonights Tips »