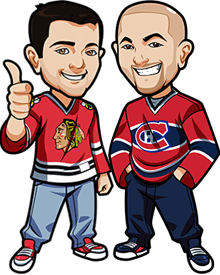 Written by Graeme & Scott on Tuesday, June 4th, 2013
Follow @BetNHL
Well we went 1-1 with the tips last night. The Bruins scored 28 seconds into this game for us to easily win the goal before 9:30 of the first period bet. We had also suggested that the Penguins would win by 2 or more goals and we couldn't have been more wrong on this one. The Bruins opened the scoring and didn't look back and by the end of the first period Boston was up 4-1. 2 more Bruins goals in the third gave Boston the 6-1 win. It seemed that after the first goal the Penguins we done. They had no emotion and it seemed as though they had just accepted the fact that the were going to lose this game.
Although they are down 2-0 the Penguins can still come back and win this series but its a long road ahead of them now as they are headed to Boston for games 3 and 4. Not to take anything away from this Boston team but before the series started we, and many others for that matter, expected this series to look the complete opposite way that it has so far. All of the Penguins stars need to step up their game and fast.
Tonight we have game 3 taking place in Los Angeles as the Kings welcome the Blackhawks to town trailing 2-0 in the series. The defending Stanley Cup champs need a huge game to ensure that they don't go down 3-0. But the Hawks are firing on all cylinders right now and anything less then a outstanding performance by the Kings will result in a loss. And how much confidence does Jonathan Quick have after he get rocked and pulled from the last game? Well we are about to find out tonight.
Here is tonight's NHL Betting Tip for Tuesday June 4th
Blackhawks vs Kings Betting Tip: Over 4.5 Goals
This game has the potential to be one of the higher scoring games of the series. The Kings need to pull out a victory here and badly. The Blackhawks on the other hand know how tough it can be when the other team has a huge lead in the series as the Red Wings did last series until the Hawks stormed back to win after trailing in the series 3-1.
The Over / Under for this game is 4.5 goals which is great and something that these teams shouldn't have a problem covering. Bet that this game will have a combined goal total of over 4.5 at Bet365 (Americans: We recommend http://www.bovada.lv for 1.69 betting odds.
Follow @BetNHL
BetNHL.ca » Tonights Tips »