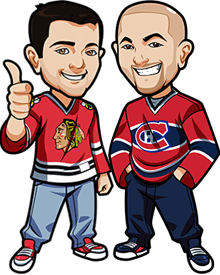 Written by Graeme & Scott on Friday, June 4th, 2021
Follow @BetNHL
Two playoff games yesterday and two overtimes. You love to see it.
The Bruins were able to fend off the Islanders in a tight, close game and defeat them 2-1 to take the lead in the series.
The Carolina Hurricanes, with their backs to the walls, were able to stifle Tampa and get the goals themselves with a 3-2 win in overtime.
We now have two intriguing games tonight.
The Habs take on the Jets following an emotional end to the prior game. That first game was a doozy and this is expected to be an emotionally charged affair.
The Avs look to go to Vegas and defeat them to take a 3-0 lead in the series. That would be a huge achievement.
Let's get to it:
Canadiens at Jets Game 2 Betting Tips:
Scott: The Habs picked up a huge win in game 1.  They scored 2 goals early and set the pace for the game.
After Scheifele hammered Evans I'm curious to see how the Habs respond.  That was a massive hit and I hope Evans is ok.  Scheifele has never been suspended before and won't have an in-person meaning the maximum suspension he could face is 5 games.
So not only will the Jets be without Scheifele they will also take on a Habs team looking to avenge their teammate.  I like the Habs to win again but the Jets can't face dropping both home games to start the series.
I'll avoid a bet on this game
No Bet
Graeme: It dawned on me yesterday as I watched the Bruins game go under that I had started betting overs again simply due to it being the playoffs. As you'll no doubt remember I had a brutal record in the last couple months of the regular season with over/unders.
I believe I am either 0-2 or 0-3 for the playoffs. The definition of insanity is doing the same thing over and over again but expecting different results – and here I am doing exactly that.
ANYWAY – I like the over in this game. The Jets have shown they can get past Price which I expected. The Habs look to be able to put the puck in the net. This game I think we will see quite a few penalties which should hopefully help things.
Screw it. Odds are good enough. Enjoy your double in regulation shutout. Over 5.5 Goals incl OT
Canada: 2.21 Odds at BetOnline..
USA: +121 Odds at BetOnline..
Everyone Else: 2.21 Odds at BetOnline..
(Odds correct as of 2021/06/04 9:41:29 AM EST but are subject to change.)
Avalanche at Knights Game 3 Betting Tips:
Scott: After game 1 when the Avs pounded the Knights 7-1, the Knights kept game 2 closer but still lost 3-2 in overtime. A late, and weak, slashing call in OT against the Knights really hurt their chances in this game.
With the series shifting to Vegas for games 3 and 4 I expect the Knights to come out swinging in this one.   Those Vegas fans are crazy and the team will feed off of them and help to push them to a win.
Knights win incl OT
Graeme: Yep Knights we gotta bet here. I wanted the Hurricanes yesterday but couldn't pull the trigger. Despite lesser odds, I do feel better about the Knights in this spot. Happy to back em. Their playoff lives are on the line here.
Knights win incl OT
Canada: 2.02 Odds at BetOnline..
USA: +102 Odds at BetOnline..
Everyone Else: 2.02 Odds at BetOnline..
(Odds correct as of 2021/06/04 9:41:29 AM EST but are subject to change.)
Follow @BetNHL
BetNHL.ca » Tonights Tips »