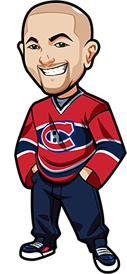 Written by Graeme on Saturday, June 4th, 2022
Follow @BetNHL
There's not too much that surprises me in hockey these days. Even the Oilers getting shut out game 2. I was able to look at my pre-series analysis, the Avs defensive metrics, and think yep there is data to support this.
But goddamn did that Rangers vs Lightning one surprise me last night.
Especially considering Tampa got the early goal as well. For them to blow the spot like that? Crazy man. This team just does not look like the same team from earlier in the playoffs. The reliable Vasy is looking like a mess.
Crazy times. Even though I predicted Lightning -1.5 for the series, I would take some perverse entertainment in seeing them get sweeped.
We've got Oilers vs Avs tonight.
Game 3, in Edmonton. Pretty much do or die for the Oilers.
Avs vs Oilers Bets:
Scott: The over didn't come through in game 2. The Avs showed that they can also play defense which they needed after almost blowing a 4 goal lead in game 1.
With game 3 in Edmonton I think that IF the Oilers are going to win one game it has to be here. But with the way the Avs dominated game 2 its hard to have any faith in the Oilers.
This game is a crucial point in this series and I feel like it is safer to avoid a tip and just see how it plays out.
No Bet
Graeme: When you have a home team in a do or die spot at underdog odds? Goddamn that is tempting. The way this series goes, Mike Smith has one of those games, and the Oilers won like 3-0 or 4-0. Just to make it even more bizarre.
Gotta think Edmonton feed off this home crowd. They were in this spotb efore and came back to beat the Kings 4-2 and then 2-0.
I've went back and forth on this one and was tempted to go with no bet, or the over. I'm not sure if the Avs defensive adjustments from Game 2 will carry over or not. However remember we have seen their offense falter before.
I'm going to go with Oilers win the race to 3 goals at 2.15 odds. It's really a gut play more than anything. I think Oilers either can make some necessary adjustments, Smith steps up (weird typing that) or we get a Game 1 type game with Oilers leading the way.
Follow @BetNHL
BetNHL.ca » Tonights Tips »