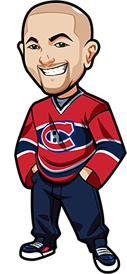 Written by Graeme on Friday, June 5th, 2020
Follow @BetNHL
Ugh.
We covered every potential NHL series. Now we don't have any more hockey to make predictions about!
Some sportsbooks have "To Win Outright" and "To Win Conference" odds but I don't see it worth betting those. There's already so many questions.
I guess we just have to sit around wand wait for it to home back. The NHL will be entering Phase 2 on June 8th.
MoneyPuck.com did their analysis and they feel the Knights have the best chance to win the cup followed by the Flyers. It's an interesting model as it has the Habs over the Penguins too. Knights are 7.00 odds and Flyers are 13.00 odds to win FYI.
I guess I'll just continue with the Bundesliga action taking place tomorrow and we'll go from there. I'll go through every game and offer some thoughts. There are 5 games taking place.
Tomorrow I'll likely cover UFC 250 and then Sunday I'll cover the NXT Takeover event taking place. If anyone wants a jump on that you can listen to my podcast:
As the odds will probably have changed by the time Sunday rolls around.
Powered by RedCircle
Bundesliga Bets for June 6, 2020:
Leverkusen vs Munich: Huge game of course. Leverkusen have been perfect since returning except for that surprise 4-1 loss to Wolfsburg. Now Munich have been perfect. Munich are 1.44 favourites. Leverkusen actually beat Munich 2-1 last time out. I'm a bit concerned Leverkusen are regressing. Their xG has dropped dramatically. Bookies are expecting a high scoring game but I'm not too sure. This is a game I really can't predict. I'd like to back Leverkusen or Draw but I am concerned with their performances the last two games. I'm personally going to probably back Under 3.5 Goals as I feel there is a lot of value there at 2.02 odds. I also think under 2.5 at 3.50 has value.
Dusseldorf vs Hoffenheim: Dusseldorfs unbeaten streak ended in a big way with a 5-0 loss to Munich. Hoffenheim have been solid. This is a big match. However I like Hoffenheim here. They have been solid and getting better I feel and are more lethal up front. I'll take Hoffenheim to win – Draw No Bet.
Frankfurt vs Mainz: Frankfurt have started rolling with wins over Bremen and Wolsfburg. Mainz are battling against relegation but making a bit of a meal of it. Their defense is a mess and I like Frankfurt to take full advantage. Eintracht Frankfurt to win.
RB Leipzig vs Paderborn: Not really much to bet here. Leipzig will probably batter them like Dortmund did. In saying that Paderborn gave them a battle when these two teams played. This is one where I could easily argue Leipzig -2 as much as I could argue BTTS etc. I'll stay away.
Dortmund vs Hertha: I like Dortmund to continue marching on and was happy they bounced back against Paderborn after the Munich loss. That one took a bit of time though and I wonder if they had to be read the riot act. This is another one where I think I'll back Under 3.5 Goals.
Follow @BetNHL
BetNHL.ca » Tonights Tips »