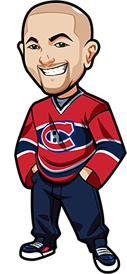 Written by Graeme on Sunday, June 5th, 2022
Follow @BetNHL
Well I felt like Mike Smith put up the performance I was hoping for yesterday – unfortunately it just wasn't enough.
The Oilers had a lot of chances but they just couldn't convert and they also couldn't ride the momentum from that early goal. That penalty to Kane seemed to kill them. Pity as we have seen how the Leafs actually thrived on that in Game 1 against Tampa.
The only question now is whether it is a sweep, or a gentleman's sweep. Oilers just can't hang with the Avs. At least that looks like another series win for me!
Rangers vs Lightning Bets:
Scott: Well for the first time in these playoffs, the Lightning have lost 2 in a row.
The Rangers won their 8th straight home playoff game which is a franchise record.
The Lightning looked better in game 2 and I expect them to come out ready in this game. Vasilevskiy needs to be better for Tampa as he has allowed 9 goals over the first 2 games of the series after allowing only 3 in the 4 game sweep of the Presidents Trophy winning Panthers. Once he finds his groove then the Lightning can get back on track. The home crowd will help them here also.
The Rangers have the momentum but the Lightning know that they can't go down 3-0 in the series the Rangers playing so well at home.
Lightning win in regulation
Graeme:Lightning in Regulation. These are big boys and experienced – they really should be able to make the necessary adjustments. They've had two games to figure it out.
Follow @BetNHL
BetNHL.ca » Tonights Tips »