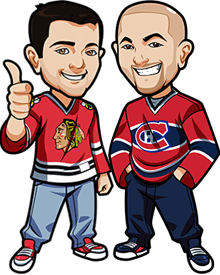 Written by Graeme & Scott on Thursday, June 6th, 2013
Follow @BetNHL
So ya, these Bruins are for real and now have to be considered the odds on favorite to win the Stanley Cup. Once the Penguins tied the game up I thought for sure they would be able to find a way to win it especially with the way Malkin seemed to catch fire. But into overtime the game went and after 15 minutes of the second overtime period Bruins hero Patrice Bergeron managed to score and win it for Boston. Boston now has a chance to sweep the Penguins in game 4 on Friday in Boston.
Tonight we have game 4 taking place in the Los Angeles vs Chicago series with the Blackhawks looking to avenge their game 3 loss and go up 3-1 in the series.
The Blackhawks will be without the services of Duncan Keith, who received a 1 game suspension for his high slash to the face of Jeff Carter during the last game. This will hurt the Hawks as Keith is their best and most reliable defenseman. Baffles me as to why Keith gets suspended but a player with a long history of dirty hits received nothing the way Matt Cooke did after his boarding penalty on Adam Mcquaid.
If you missed the slash on Jeff Carter here it is:
Ya its bad and deserved a suspension. I'm just a bitter Blackhawks fan that's all
Here are the NHL Betting Tips for game 4 of the Hawks vs Kings Western Conference Final
Blackhawks vs Kings Betting Tips: Over 4.5 goals
I really hope the Blackhawks can find a way to win without Keith and head home up 3-1 in the series. The Keith suspension may also be a blessing in disguise as Keith plays almost 30 minutes a game and can use this as some much needed rest.
But this Kings team is deep and are the defending Stanley Cup winners so you can never count them out.Without their best defenseman the Hawks are more likely to give up goals.
Taking that into consideration I think this game will go over 4.5 goals. Bet over 4.5 at Bet365 (Americans: We recommend http://www.bovada.lv for 1.74 betting odds
Hawks vs Kings Betting Tips: Goal before 9:30
As has been a trend in these Conference finals, the first goal has been scored early in the first period. With the exception of the first game of the Hawks – Kings series, a goal has been scored before 9:30 of the first period in all of the other games so far.
The trend should continue tonight so we are suggesting to bet that a goal will be scored before 9:30 of the first period at Bet365 (Americans: We recommend http://www.bovada.lv for 1.87 betting odds
Follow @BetNHL
BetNHL.ca » Tonights Tips »