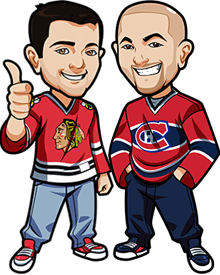 Written by Graeme & Scott on Tuesday, June 8th, 2021
The Montreal Canadiens pull off quite the upset as they progress to the next round of the NHL playoffs, with a sweep of the Winnipeg Jets.
The 18th ranked team in the NHL have did an absolutely incredible job to get this far, and they will face the winners of the Avalanche and Knights series.
There was a slight HTML error yesterday with the tips and unfortunately Graemes Islanders/Bruins tip got cut off. Apologies for that. He of course correctly predicted the correct score of 5-4 at 100/1 odds and suggested a 100u bet. We're now billionaires!
We've got two games today. Tampa look to wrap up their series against the Hurricanes while the Knights and Avs battle to see who can take the lead in that series. Colorado will be hoping that the return to hime ice helps them out.
Hurricanes vs Lightning Game 5 Betting Tips:
Scott: The Lightning have a chance to end this series tonight.  Game 4 was nuts.  They were down 2-1 and then 4-2 but Kucherov took over in the 3rd scoring twice and adding an assist and the Bolts scored 4 unanswered goals and won 6-4.
With the series moving to Carolina and their backs against the wall I like the Hurricanes to be better in game 5.  The have only 1 win in this series and it needed overtime.
They have a shot and the odds make it worth a play
Hurricanes win incl OT
Canada: 2.05 Odds at Bet365.
USA: 2.04 Odds at BetOnline.
Everyone Else: 2.05 Odds at Bet365.
(Odds correct as of 2021/06/08 10:54:26 AM EST but are subject to change.)
Graeme: Man I honestly don't know. Canes yeah backs against the wall etc and they were in this spot in Game 3 really – if they lost that they were screwed – and were able to pull off the tight 3-2 win.
They then had that thriller in Game 4.
Tampa were able to get the job done twice here so home ice isn't as big a factor.
I think Tampa take this one. I wish there was better odds but I'll go with them as I think they have more experience in these spots and will get it done.
Tampa win incl OT
Canada: 1.86 Odds at BetOnline.
USA: -115 Odds at BetOnline.
Everyone Else: 1.86 Odds at BetOnline.
(Odds correct as of 2021/06/08 10:54:26 AM EST but are subject to change.)
Avalanche vs Knights Game 5 Betting Tips:
Scott: The Knights have won the last 2 games and have tied the series up.
The Avalanche need to pick up a win.  They won both of their home games in this series so they need to take advantage of having their fans cheering them on like the Knights did.
Each game was won by the home team so I like that trend to continue.  But the odds aren't worth it and a regulation win would get better odds but one of their wins needed overtime so not comfortable taking that.
No Bet
Graeme:No Bet on this one. I think I'd take the Knights if they were at like 2.40. But around 2.25 is just a tad too slim for me.
Best America Sportsbooks for NHL
BetNHL.ca » Tonights Tips » June 8th, 2021 NHL Betting Tips