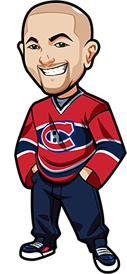 Written by Graeme on Thursday, June 9th, 2022
Follow @BetNHL
The Avs vs Oilers series being over is messing with my mind. I was about to write "Well we've got a big Game 7 tonight" then it's like oh wait it's only Game 5.
We've got at least 2 and potentially 3 games in the Lightning vs Rangers series left.
Whoever wins this Eastern Conference final will get to go head to head with a rested Colorado Avalanche team.
We both correctly predicted Avs -1.5. I wanted to back over 5.5 games in this series which would have been an easy win, but I couldn't find any good betting odds for that or even Rangers +1.5 etc. So I joined Scott in Lightning -1.5. We need Tampa to win both games to get that one right.
Here's our thoughts on this game:
Lightning vs Rangers Bets:
Scott: Well now the Rangers are going to put their home win streak on the line in this crucial game 5.
The Lightning looked great and have now made it a best of 3 series.
Chytil left game 4 with an injury and Strome was scratched after taking the pregame skate. Both are crucial to any success the Rangers have had this postseason. But the Lightning have played their last 7 games without Point and are still playing well.
I had picked the Lightning to win the series and for them to do that they need to win one in New York. But with the way the Rangers have been playing at home its hard to bet against them. Tough game to call. There is value if taking the Rangers but the Lightning are rolling.
No Bet
Graeme: The tricky thing when it comes to the New York Rangers is that Shesterkin can show up huge at times. Like elite level. And you have no idea when it is coming so you just have to factor that possibility into the bets.
Tampa come in with the momentum here but I am not a fan of the odds, considering Rangers won both games at home.
I have absolutely no clue here, quite honestly. I don't see any good angles for a bet. I have absolutely no idea how this one is going to go.
I think there might be miniscule value on the Rangers? But then as soon as I think about that, I then think about Vasy getting going, Tampa really putting it together, the momentum shift and how the Rangers will handle this desperation home game.
Yeah I gotta join Scott on no bet on this one.
And a quick note; if you're one of those people who see us offer no bets on a game, and feel the need to send an angry e-mail or comment? You may have a gambling problem. Choosing not to bet on something is perfectly fine. If you feel the need to gamble – or worse – yell at us for not telling you what to gamble? Please take a moment to check out a website like BeGambleAware.org. You may think it's silly but it's well worth reading through that as it can be an important learning experience. PSA over.
And hey if you ARE choosing to bet on this one, be sure to post it in the comments and why. Always interesting seeing. I may do a couple of player props myself but going to wait till the game has started I think and watch how it is going.
Follow @BetNHL
BetNHL.ca » Tonights Tips » June 9th, 2022 NHL Betting Tips