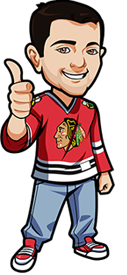 Written by Scott on Sunday, June 1st, 2014
Follow @BetNHL
Sorry for the delay with the tips today. It's been a busy day with plenty more to do before the game tonight. This has been the best series of the playoffs of recent memory.
Tonight's game is going to be amazing and probably the best game so far of the playoffs and maybe the best that we will see including the finals.
This is basically game 7 of the Stanley Cup Finals. With all due respect to the New York Rangers I just don't see them matching up well with either of the teams playing tonight.
Gotta keep this short so let's have a look at the odds for tonight's game 7:
Los Angeles Kings vs Chicago Blackhawks Betting Odds:

Kings To Win: 2.15
Hawks To Win: 1.74
Over 5 Goals: 1.83
Under 5 Goals: 1.95

You can find these odds at Sports Interaction
Los Angeles Kings vs Chicago Blackhawks Betting Tips:
This is so hard to predict.
Let's start with the over / under. Neither are at or above even so we should avoid making this bet.
Now let's get to the game
This series has seen lots of momentum swings. First the Hawks after their game 1 win, then the Kings when the pulled off 3 wins in a row in games 2,3 &4. Now the Hawks have the momentum after winning games 5&6. The Hawks have gone from the under dogs after the Kings streak to the favorites after game 5&6
Hawks have been strong in these playoffs at home and the Kings need to find a way to stop the Kane, Saad and Shaw line who have looked unstoppable in the last two Hawk wins. But that's the Kings problem right now. Do you take your best defensive pair off of the Toews line to look after Kane's line? That's a tough call and a situation that's going to make or break this game and series.
Call me biased, call me whatever you want but I like the Hawks in this game. Kane is a machine in games like this . And so is Toews.
Take the Hawks in regulation for 2.10 at Sports Interaction
Follow @BetNHL
BetNHL.ca » Tonights Tips »