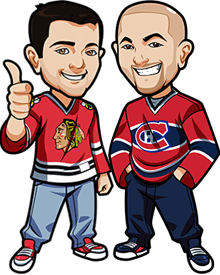 Written by Graeme & Scott on Monday, June 4th, 2018
Follow @BetNHL
On Saturday night, the Washington Capitals took a 2-1 lead in the Stanley Cup Final with a solid 3-1 victory over the Knights.
It was a great performance by the Caps and an equally poor one from the Knights. The Caps looked hungry and looked like they wanted it more – every attack looked like it could result in a goal. The opposite was displayed from the Knights and their defense had an off night.
Is this a level too far for the Knights? Or can they bounce back strong? They've now lost two in a row – something that hasn't happened to them during the playoffs.
It's a massive game for the Knights tonight and they'd like to get the win obviously. It'll be interesting seeing if they can take this one. Knowing their work rate, this one surely won't be heading to a gentlemans sweep.
Caps vs Knights Betting Tips:
Scott: The Caps took advantage of the Knights sloppy defense and came away 3-1 winners. This was the Caps first win at home in a Stanley Cup Final in the teams 43 year history.  Kuznetsov played and looked awesome scoring a goal and adding an assist after leaving game 2 in the 1st period.
In game 3 Holtby was amazing and if not for a terrible giveaway to the Knights he may have had a shutout.  He only faced 22 shots as the team in front of him blocked 26.
With the Caps still at home and their performance in game 3, I like them to take a commanding 3-1 series lead after this game.  And it will be interesting to see how the Knights respond to losing 2 in a row for the first time in these playoffs.
Capitals Win incl OT – 1u
Graeme: After that game on Saturday, I expected the Knights odds to be something like 2.25 or 2.30. That's not the case. Earlier this morning they were on average 2.10 and this one is bordering closer to a pickem at this stage with the Knights just 2.05 now.
It's interesting the sportsbooks are taking this approach – they seem to be concerned that the Knights get the win tonight. In this case I'm going to follow the money and back the Knights. I felt like it was a very poor effort from them in the last game. No surprise – they were probably overwhelmed at sharing the ice with Pat F'N Sajak. I'd be the same way.
0.5u on Knights to win incl OT. I think it's a fairly poor price but it seems like the sportsbooks know what's up.
Follow @BetNHL
BetNHL.ca » Tonights Tips »