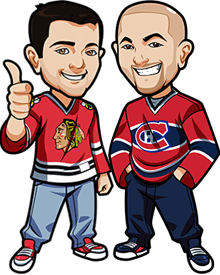 Written by Graeme & Scott on Thursday, April 11th, 2019
Follow @BetNHL
Last night was a hell of a welcome to the NHL playoffs!
The Jets and Knights series are essentially pickems, but the other three series that took place last night had heavy favourites and all three favourites lost!
Graeme called it yesterday with the Jackets winning Game 1. Tampa took a 3-0 lead and it looked like business as usual but complacency set in and the Blue Jackets came back in electric fashion. Regardless of who you have bet for that series that's a hell of a start to the series. Sportsbooks will be loving it too due to the action they no doubt took on a Tampa sweep,.
The Penguins vs Islanders series promises to be a good one. This was a closely fought game that went to OT with the Islanders winning.
The Jets firepower was missing as they lost 2-1 at home to the Blues. That's a MASSIVE win for the St. Louis Blues as Winnipeg were no doubt feeling confident about home ice.
Stars beating the Preds was quite the shock and props to the Stars for that win. That was awesome.
Finally not a good night for the Knights, as they got thumped 5-2 by a motivated and inspired San Jose Sharks.
An awesome night of hockey action.
Tonight we see the other three series start and we'll do our series predictions again so let's get right into that. Quick note that we wrote all the series betting tips at the same time. What that means is that the tips aren't reflective of last nights results.
If you had 3 of the favourites that lost last night and it's causing you to second guess bets you were planning to make – don't let it! Take a second look to make sure you are still confident in it, but don't be reactive due to one night of action.
Here's the quick tips for those who hate reading.
Bruins vs Leafs To Go 7 Games
. We oppose each other on this one. 3.05 odds at
888 Sports
.. 0.5u play.
Capitals -1.5 for the series
. 2u play. 2.30 odds at
888 Sports
..
Flames -1.5 for the series
. 1u play. 1.76 odds at
888 Sports
.
Americans: For all bets, go with BetOnline..
Leafs vs Bruins Series Betting Tips:
Scott: This series is going to be crazy. These teams have met in the first round before and it seems to be a problem for Toronto.
The Bruins have the best top line in the league with Bergeron in the middle of Marchand and Pastrnak. The Leafs have a crazy amount of depth at forward with Tavares, Matthews, Marner, Marleau, Kadri and more.
The Leafs biggest problem is putting togther a strong effort for 60 minutes. Too often they have a good 1st and 2nd only to blow it in the 3rd. Or they cruise through the first two periods and turn it on in the 3rd trying to catch up.
The Bruins won the season series 3-1. I'm not sure who wins this series but I do like it to be a long one. Based on the season series and past results in the Playoffs I think Boston gets the edge in this series.
Bruins in 7
Graeme: Oh boy this is going to be a fun series.
The Leafs were expected to be in the Stanley Cup Final prior to the season beginning. They end up only getting third in the Atlantic by 4 points, and were 28 points off the leaders. They only had the 4th best offensive record in the league at the end of the day.
The Bruins relied a lot on their top line this season and that worked out – but you have to give credit to the depth they have. They are a damn good team and deserve to go into this one as favourites.
The Leafs have had two issues – motivation and defense. We knew the latter would be an issue prior to the season beginning. What's a big issue for them is their goaltending as well. At least the Bruins can alternate goalies no problem – the Leafs don't have that luxury. If Andersen struggles they may as well just play with an empty net with all that Garret Sparks brings to the team.
At the end of the day however, for me it's about that Leafs motivation. At the beginning of the season we didn't see that. They'd go into big games and go toe for toe against the top teams with no fear. They lost that in the second half of the season big time.
They did struggle against the Bruins however this season. Big time. And that's a concern.
Bruins however have their own defensive issues. And I honestly think if the Leafs can overcome their motivational issues, they'll win this series. And you know what? The Bruins have been in the Leafs heads for years so that plus the playoffs HAS to motivate this team I'd think.
At the end of the day – I'd back a motivated and hungry Leafs offense against anyone. And I'm happy to put my money where my mouth is. Leafs in 7
BetNHL.ca Tip:
We oppose each other on this one so let's go with Over 6.5 and the loser has to pay for beer & wings after the final game. 3.05 odds at
888 Sports
.. 0.5u play.
Americans can bet this at BetOnline..
Hurricanes vs Capitals Series Betting Tips:
Scott: Its tough to win back to back Stanley Cups but its not impossible as the Penguins recently showed us. This team is an offensive machine running 4 lines who can score. Ovechkin scored 51 goals this season to win the Rocket Richard Trophy for the 8th time.
The Hurricanes embraced the "Bunch of Jerks" name that Don Cherry gave them after their postgame win celebrations rubbed some people the wrong way. This is the Canes return to the playoffs after 10 years.
The Caps won all 4 meetings this season. I like their chances to win the series the only problem is that they have played a lot of hockey over the past 2 seasons so that may play a huge roll against them.
Capitals in 5
Graeme: I'm so happy to see the Hurricanes have made it as I am a big fan of them. I've told this story before but as of a couple of years ago, I started arguing with Scott on taking the Hurricanes in almost every game. It was based on the advanced metrics they always put up. It was one of those things where he didn't like the Canes, and my fanboyism for them gave him an outright hatred for them.
As me and Scott like to troll each other, I promptly went to the local sports merchandise store and asked them where their Carolina Hurricanes merchandise was. The guy laughed and said in the 20 years he'd ran the store,he'd NEVER had anyone ask for Hurricanes merchandise and that they didn't carry any. I ended up racking up a $250 order at NHL Shop just so I could troll Scott.
Now whenever I go out with him for beers and wings I'll always have Canes merchandise on in some manner. A jersey. A t-shirt. A hat. A lanyard. Socks. Boxers. If Scott comes over to my house to watch some hockey, you can be damn sure he's being served a beer in a Hurricanes pint glass.
Scott's a big fan of resorts, and when I went to a resort in Mexico last year knowing he was already sad that I was there and he wasn't, I made sure to order two drinks and sent him this picture over Whatsapp saying "Hey buddy got you a drink":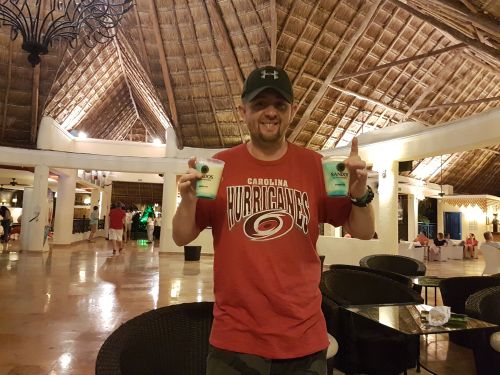 It's one of those jokes that will never get old – well, at least for me.
As for this series? Ugh. I mean one thing we've learned over the years is that all the advanced metrics don't mean shit in regard to actual results on the ice. And that was demonstrated with the Capitals beating the Canes in all 4 games.
I love the Canes but I just think the Capitals are too damn good for them here. They have the skill, they have the experience and they have the regular season performances to go off. I honestly don't know if the Hurricanes can even win one game to be honest. I'm not sure they have that motivation level. I also think getting to the dance was enough for them – and they'll fade off into the darkness now they're here.
I hope I wrong, but I also think the odds for this one are poor and the Caps should be much bigger favourites. Caps never make it easy for themselves though so we'll say Caps in 6. Go canes!
BetNHL.ca Tip:
We feel confident in the Capitals so 2u play. 2.30 odds at
888 Sports
..
Americans can bet this at BetOnline..
.
Avalanche vs Flames Series Betting Tips:
Scott: The Flames were incredible during the regular season. They ran away with the top spot in the Western Conference with 107 points which was 6 more than the 2nd place Sharks. They also scored 289 goals which was good for 2nd in the league.
The Avalanche were the last team to secure a playoff spot and thats why they are facing the Flames in round 1.
The Flames won all 3 games they played against the Avs this season. They have scoring depth compared to the Avs who were basically a one line team.
Its a lot of pressure they will be facing being the top team in the West but I like the Flames to go through to the next round
Flames win in 5 games
Graeme: Flames beat the Avs 3 times in the regular season but the Avs fought hard in every game. We all know the Flames situ – they have their goaltending issues but the offense is hot. That came into play in all 3 games between these teams this season. And really – despite their issues their goals allowed is 9th in the season. They also do a great job at not allowing chances, and are 1st ranked in SOG allowed.
The Avs problem is they don't have the type of defensive setup that will stifle the Flames offense – and they really on their top line more than any other team it feels. Avs won't go quietly, but I'd be shocked if the Flames don't take this one with games to spare.
Flames in 5 Games
BetNHL.ca Tip:
Flames -1.5 1u play. 1.76 odds at
888 Sports
..
Americans can bet this at BetOnline..
Follow @BetNHL
BetNHL.ca » Tonights Tips »