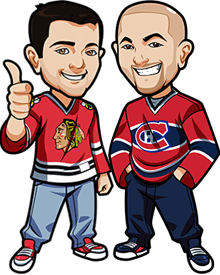 Written by Graeme & Scott on Wednesday, April 10th, 2019
Follow @BetNHL
Welcome to the beginning of the NHL playoffs.
If you're a regular here, you'll know how we handle tips. If you don't let's give a refresher.
We provide individual opinions. As opposed to the regular season, during the playoffs with fewer games each day, we feel it is best that instead of discussing things we offer our individual opinions. When they match up, they're counted in the stats. The reason for this is because often we have differing opinions or can't convince the other and there'd be many days with no tips.
Prior to Game 1s, we provide series betting tips. We provide our opinions on the series as a whole. We'll then predict who will win, and in how many games. Finally based on those picks, we will offer the best bet for that scenario. We may state that we believe a team will win in 5 games, however the advised bet might be that team -1.5.
Following Game 1s, we provide game betting tips. From Game 2 all the way through to the series end, we'll offer our opinions on each game.
It's a more relaxed and enjoyable approach we take to it. As believe us after trying out combined tips the first couple of years – it was a bloody nightmare.
WIth that said, we have a whopping 5 series to cover today so let's get to it. If you don't want to read, here are our official bets as we were able to agree on the winner of every single series surprisingly:
1u on Lightning -2.5 for the series.
. 2.60 at
888 Sports
.
0.5u on Penguins to win the series
. 1.66 at Bet365 (Americans: We recommend
http://www.bovada.lv
.
1u on Jets to win the series
. 2.00 at Bet365 (Americans: We recommend
http://www.bovada.lv
.
1u on Knights to win the series
. 1.91 at
888 Sports
.
There's no good combined bet for the Predators series(where we said 6 and 7). We'll go with Preds -1.5 at 2.05 odds at 888 Sports.. 0.5u bet.
Americans: For series futures we advise betting at BetOnline.. For handicaps, go with BetOnline..

Blue Jackets vs Lightning Series Betting Tips:
Scott: If you haven't yet heard, the Lightning are pretty good.
They tied the 1995-96 Red Wings for most wins in league history. They were the best team this season by far. They had a goal differential of 103, averaged 3.96 GPG both some of the best numbers the league has seen in a while. Kucherov had 128 points which is a new franchise best and the highest season total in 20 years.
Nothing against the Blue Jackets but I don't see them having a chance here. Up until the trade deadline it was reported that they were willing to trade Panarin and Bobrovsky but instead kept both and added Duchene and Dzingel. That uncertainty doesn't show much confidence.
Lightning in 5
Graeme: Each season we often go into the playoffs with a couple of strong contenders. One may slightly stand out above the rest of the pack but not by a lot. That's different this season. In a season where at the beginning it was expected to be Leafs vs Sharks as the final – now it would be a complete shock if the Tampa Bay Lightning aren't hosting the Stanley Cup in a couple of months.
Home or away, Tampa have been absolutely killer this season. It's a marquee season like no other. They beat the Blue Jackets in all 3 meetups this season. In saying that, the Blue Jackets were solid on the road this year with a 25-14-2 record and come into this one on the back of some fine form. 7-1-0 in their last 8. Some big scalps in there and some key wins for the playoffs.
Honestly for the Blue Jackets I think Game 1 is the key. If they lose that, I think Tampa sweep. If they win that? That actually makes things very interesting. As for the Blue Jackets there were numerous points where they didn't look like they'd be in the playoffs. They should be able to play this series without any pressure while Tampa must be feeling all the pressure. That's not affected them of course yet.
Jackets are actually a tough opposition. I've got to think they come out in Game 1 aggressive. They can't beat Tampa in a speed game so beat them up a bit – let them know they're in a fight.
I'll probably throw some money in the Jackets to win game 1 honestly. Depending on how they approach it they may be able to pull off the upset and their road performances this season, plus the momentum coming into this….I think it's worth a small play. In saying that, on paper Tampa are better than them in so many ways and I am going to go with Tampa with the gentlemans sweep. To be honest I'd predict Tampa 4-0 but they won 4-1 last year twice which was a factor in that prediction.
BetNHL.ca Tip:
1u on Lightning -2.5 for the series. 2.60 at
888 Sports
.
Americans can bet this at BetOnline..
Penguins vs Islanders Series Betting Tips:
Scott: The Islanders weren't supposed to be here. They lost their captain and face of the franchise in the offseason. Yet they were a strong team from start to finish this season and finished in 2nd place in the Metro.
The Penguins are the Penguins. They are led by Crosby but also have Malkin, Kessel, Guentzel and Letang. They also have a huge advantage in experience in the postseason.
These teams split the regular season series at 2 games apiece. Lehner was amazing this year and if the Isles are to have any chance in this series they will need him at his best. But I can't see the Isles beating Crosby and company. The Pens had a longer time off last season so that extra rest should give them the boost. Penguins in 6
Graeme: Ugh. The Penguins. On my Do Not Bet list three times this season for a period of times. So many frustrations with this team this year.
It's weird because when compared to the rest of the teams they did very well overall but it just didn't feel like that during the regular season. It just felt like they were phoning it in, barely showing up many times and had no drive. Yet they stiill had a better goal differnential than the Caps, were four points from within the Metro, and of course made the playoffs.
Islanders looked excellent at many points in the season but experience is a big factor. I think they'll give the Penguins a good battle, but will come up short at the end of the day. Penguins in 7
BetNHL.ca Tip:
0.5u on Penguins for the series although our lack of major confidence in the Pens and the crappy odds may make this a pass for most of you. 1.66 at Bet365 (Americans: We recommend
http://www.bovada.lv
.
Americans can bet this at BetOnline..
Blues vs Jets Series Betting Tips:
Scott: The Jets won their last game of the season and doing so gained them home ice in the first round. The Jets faced some key injuries to their defense which explains their 2nd half struggles.
The Jets stumbled in the end but still managed to gain home ice advantage in the first round. The Jets fans are maniacs and will go a long way in helping them move onto the 2nd round.
The Blues had a strong second half and most, if not all, of the credit goes to Jordan Binnington who was incredible. The rookie was amazing going 24-5-1 with 5 shutouts, a 1.89 GAA and a .927 save percentage.
The Jets forward depth is awesome with Scheifele beteeen Laine and Wheeler on the top line and Hayes, Conner and Ehlers on the 2nd line. Home ice will give the Jets the edge. Jets in 6
Graeme: The Jets have been such a weird team this season. A very strong first half but no-one gave them their due; saying it was due to an easier schedule. They battled motivation at times, they had some injuries and the idea of "winning respect" didn't seem to drive them n.
Now they go up against a surging St. Louis Blues team. However the Jets were better in the matchups with them. Then again it was the coaching change that really seemed to help the Blues as well.
It's one of those series that are really more about offense vs defense. Whether the Jets offence can break down the defense first Blues.
To me – the Jets rocked it the first half. They were essentially in the playoffs by that point and so it was hard to get the drive for the second half. Seen that happen with plenty of teams. Now they're here they should be able to get that drive again. For the Blues, the big thing is Binnington but man – the playoffs are a completely different animal despite his incredible performances. Andrew Hammond knows how that goes.
I've got to think the better team are just able to take this. Although I do love goalie performances so I wouldn't mind being wrong on this one and seeing Binnington perform miracles. Jets in 5
Stars vs Predators Series Betting Tips:
Scott: The Preds won the Central Division for the 2nd year in a row. They just barely did this finishing with 100 points which was 1 ahead of the Jets and Blues.
The Stars finished the season in 7th place in the West. This was an interesting year for them. They had a rough start to the year and were publicly called out by the team CEO. That seemed to spark the team who played much better after that.
The season series was won by the Preds 3-2 but two of those wins happened in OT. This could be a great series but it comes down to depth. The Preds are a deep team on offense and added Simmonds, Backlund and Boyle to strengthen that. Their defense is arguably the best in the league.
Predators in 6
Graeme: Dallas were such a weird team for me this season. In a season where it was tough to find "guaranteed" bets, they were one of those teams that were able to do so early in the season with their home performances. They just always seemed to show up there. I lost faith with them strongly during the second half of the season and I am surprised they were able to make the playoffs. They just seemed to find the grit when required.
Preds – man, how is Rinne gonna do? Can they count on him this year? That's concerning.
Dallas weren't great on the road last year but do bring it at home. Even though their record is poor they have still showed enough to me overall in the home performances that I think they can win those. On the road? I just think Preds take them and this will be a classic home/road split finish.
Predators in 7
BetNHL.ca Tip:
There's no good combined bet for the Predators series. We'll go with Preds -1.5 at 2.05 odds 0.5u bet at
888 Sports
..
Americans can bet this at BetOnline..
Knights vs Sharks Series Betting Tips:
Scott: This could end up being the best series of the first round.
The Sharks added Nyquist at the deadline but added Erik Karlsson in the off season and when he returns he joins Burns and Vlasic to form one of the best group of defensemen in the league.
The Knights grabbed Mark Stone at the deadline to strengthen their offense. Stone joined Stastny and Pacioretty on the 2nd line in Vegas.
These teams split the season series at 2 games each. Last year the Knights beat the Sharks in 6 games to advance to the finals.
In my opinion the Knights have Fleury and he has the ability to win a series himself. I'm rooting for the Sharks here as I'm a fan of Joe Thornton but again its the goaltending that I think will determine the series.
Knights in 6
Graeme: It's funny how things can change in a couple of weeks.
It was just a few weeks ago I was talking in the comments with SanDiegoBruins about the Knights and how good they were looking. I even put a futures bet on for the cup final to be Lightning vs Knights. At that point, it seemed like that was going to happen no problem at all.
Flash forward to yesterday. I'm on a train returning home after that trip to the USA, and I get a text from my nephew: "Someones offering me 1:1 odds on the Sharks should I take it?" and I spent the rest of the train ride thinking about that, without coming to any sort of conclusion.
These two teams met last year in the playoffs and it was a fun series with some insanely tight games and some insanely lopsided games.
The question is just how healthy is Erik Karlsson. Losing him was a big one and even when he played, he didn't quite look himself.
At the end of the day, I think I've got to go with the Knights. When I think about what both teams are capable of – I just feel Knights oust them there. Offensively they have a very dynamic offense that the Sharks may struggle with, and we know how good Fleury has been.
I am concerned about the Sharks having home ice – that could be a factor as the Knights weren't the same on the road. But I think the Knights can win all their home games, and will be able to steal at least one win in San Jose if not multiple.
Knights in 6
BetNHL.ca Tip:
1u on Knights to win the series. 1.91 at
888 Sports
.
Americans can bet this at BetOnline...
Follow @BetNHL
BetNHL.ca » Tonights Tips »