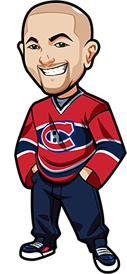 Written by Graeme on Friday, June 17th, 2022
Follow @BetNHL
Game 1 of the Tampa Bay Lightning vs the Colorado Avalanche was a good one.
It was a fast and furious 1st period, with the Avs going up 3-1. I think most people at that point were probably celebrating any Avs handicap bets they had, or wishing they had bet on them.
Tampa made the big comeback though only to be stuffed in overtime.
It looks like it is going to be a great series. Here are our thoughts on Game 2:
Lightning vs Avalanche Bets:
Scott: Game 1 was great and needed overtime. The Avalanche were up 3-1 after the 1st but the Lightning scored twice in the 2nd to tie it. Nothing in the 3rd so it needed to be decided in extra time. Only needed 1:23 of OT when Burakovsky scored his 2nd of the playoffs to win it for the Avs.
The Avalanche killed off all 3 penalties which was huge as the Lightnings power play unit is a beast.
I expect this series to go to 6 games so the Lightning need to win a game in Colorado to tie the series before it moves to Tampa Bay. Point returned and now that he has a game under his belt he should be a factor in the series. It's going to be tricky to pick a winner for each game going forward but I feel like the Lightning should have a better team effort here. They were outshot 38-23 in game 1.
Lightning win incl OT
Graeme: It's interesting how it can be different when viewing a game, compared to the actual metrics and stats. My thought after that game was that Tampa came very close to winning it, and that it would be an easy bet if they were anything above 2.25 for Game 2.
Then I study the metrics and it's not as much. Avs offensively dominated all three periods pretty much, and of course delivered in OT.
I guess it does say a lot that Tampa were still able to take it to OT despite that domination.
I'm going to go with Palat Over 0.5 Points at 1.80 odds. Unless this is a letdown spot for Tampa, they should be getting the goals and he should be in there somewhere. He had a lot of TOI and a high xG metric on Wednesday.
Follow @BetNHL
BetNHL.ca » Tonights Tips »