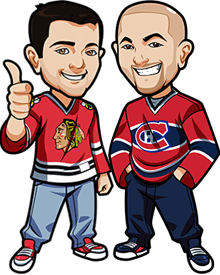 Written by Graeme & Scott on Saturday, July 3rd, 2021
Follow @BetNHL
We said prior to Game 3 that Tampa are that team who will capitalize on any mistakes you make. Alas the Habs made quite a few in Game 3, and it resulted in a big victory for Tampa.
It was disappointing to see – especially that mental collapse in the 2nd period, and this seems to be all she wrote.
Hopefully the Habs get at least one win. This seems like the perfect time for it to be a gentleman's sweep. Plus then Tampa get to win on home ice.
It is what it is. Here are our Game 4 thoughts. And if this is the final time we're writing this season – thanks for sticking with us during what was a tough, tough season. It was an interesting one to say the least.
Scott:
I really have nothing to say.  The Lightning have been the better team.  The Habs had a great run but they ran into a team who has no weaknesses and is firing on all cylinders.
I hope the Habs can go on a run and somehow make this a series but they haven't given me a reason to back them.  They have been in a similar situation once in these playoffs when they were down 3-1 to the Leafs and came back to win the series.  But I just can't see it happening for them this round.
I think the Lightning wrap this up and win the Cup for the 2nd year in a row.  I hope I'm wrong and the Habs win to extend the series.  I'll instead just sit back and enjoy the game.  No matter who wins and in any sport I always enjoy watching a team win the trophy they played all season for.
No Bet
Graeme: I honestly don't feel hard done by; Tampa are just a much better team than Montreal.
Their ability to capitalize on any mistakes must be so tough for the Habs.
Honestly with the way it's all gone, unless Habs pull off another miracle I think Lightning in Regulation at about 2.00 odds is a good price.
Sucks.
Follow @BetNHL
BetNHL.ca » Tonights Tips »