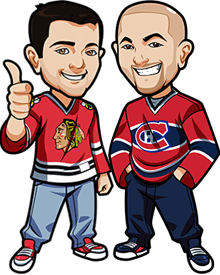 Written by Graeme & Scott on Friday, May 6th, 2016
Follow @BetNHL
Both series played last night saw them get tied up 2-2.
The Dallas Stars got a big and important victory over the St. Louis Blues. It was a very tight game with not a lot of shots on goal. The Blues started strong but the Stars came back well – it was good to see the heads not go down there, and they got the big important win.
The Sharks and Predators had a real thrilling game ending with triple overtime needed to separate the teams. The Predators ended up winning 4-3 there.
From a betting perspective that's where you should be going back a few years and looking at any other triple overtime games(or double overtime that go almost to the end) and looking for trends there. After looking for some broad trends look for more specific ones – like factoring in tieing up a series, or traveling for the next game etc.
It was the night of overtimes as the Toronto Raptors and Miami Heat went to OT for the 2nd game in a row, with the Raptors coming out victors. Raptors started extremely strong but man did they lose a lot of energy in the 3rd quarter. That's one aspect that I feel Lowry just isn't that good on – getting the team riled up. It was a strong defensive performance that really got the Raptors back on board in that game.
Tonight we have just the one game as the Tampa Bay Lightning, leading the New York Islanders, play in New York hoping to take a 3-1 lead back to Tampa. That would be absolutely huge for them.
Lightning vs Islanders Game 4 Betting Tips:
Graeme: The Game 3 loss has to be a frustrating one for the New York Islanders. They played what they feel was their best game and came out nice and aggressive, but still lost. That's got to hurt.
However from what I've seen from them in the playoffs so far I just can't see the heads going down. They easily could but I see them taking this game by the scruff of the neck and tieing this series up.
The odds for an Islanders win are great as it is but I'm gonna go that bit extra today and take Islanders in Regulation.
Canada: 2.55 Odds at Bet365 (Americans: We recommend http://www.bovada.lv.
USA: Bet at Bovada.
Everyone Else: 2.55 Odds at Bet365 (Americans: We recommend http://www.bovada.lv.
Scott: Scott The Lightning won game 3 5-4 but there was controversy.  Boyle laid a high hit on the Isles Hickey in OT just before he scored the game winner.  Either way the Lightning now lead the series 2-1.  This has been a high scoring series with a total of 22 goal being scored over the 3 games.  The Isles will be going all out to tie the series and avoiding heading back to Tampa down 3-1.  The Isles, despite losing the game, played great last game with 39 shots and 44 hits.  If they can keep that up they stand a good chance to win tonight. I'm betting two tonight.
Over 5
Canada: 1.81 Odds at Pinnacle Sports.
USA: Bet at Bovada.
Everyone Else: 1.81 Odds at Pinnacle Sports.
Isles win
Canada: 1.95 Odds at Pinnacle Sports.
USA: Bet at Bovada.
Everyone Else: 1.95 Odds at Pinnacle Sports.
Follow @BetNHL
BetNHL.ca » Tonights Tips »