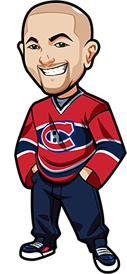 Written by Graeme on Wednesday, June 1st, 2022
Follow @BetNHL
Well I dunno about you guys but I'd say Oilers vs Avs lived up to expectations at least in Game 1 eh?
Everyone expected goals and neither team disappointed. A 14 goal thriller.
Just immense and let's hope for more games like that. No surprise the online sportsbooks have set the line for game 2 at over/under 7 goals and even that is going to hit 7.5 soon it looks like, at 1.76 odds.
We see Game 1 in the Rangers vs Lightning series next. Hopefully these two have something exciting in store for us. Here are our thoughts:
Rangers vs Lightning Bets:
Scott: The Lightning have been incredible in this postseason. They took out the Leafs in 7 games in round 1 and then swept the Presidents Trophy winning Panthers in round 2. That's 2 of the top 4 teams in the league during the regular season.
I was worried that with them playing so much hockey over the last couple seasons that fatigue would play a roll but it hasn't slowed them down at all. Vasilevskiy is one of the best goalies in the league and certainly the best still in the postseason.
The Rangers beat the Penguins in round 1 in 7 games and the Canes in round 2 also in 7 games. They trailed in both series but made comebacks to win. It shows just how much heart they have and they never give up.
Shesterkin had some bad games against the Penguins but the Rangers have faith in him and he has rewarded them by playing amazing since.
They played 3 times during the regular season and the Rangers won all 3.
The Lightning haven't played since the 23rd so they have had 9 days off to rest. The extra time off will help them in the playoffs. The Rangers have played the most games in this postseason.
I bet against the Lightning in both series and was obviously wrong in both. With the way they played in the first 2 rounds I have to back the Lightning to win here. The Rangers got by on Shesterkin and his strong play. They let the play come to them and that won't work against a Lightning team who are all to familiar with playoff hockey and have plenty of weapons available which will make it tough for the Rangers. I'll give the Rangers a game, maybe two, but I don't see this one going 7 games.
Lightning in 5 maybe 6 – Lightning -1.5 is the play
Graeme: Tampa are very hefty favourites here at 1.54 odds. The Leafs took them to Game 7, but they seem to be going from strength to strength and sweeped the Panthers. Vasy was incredible in that game.
Goaltending is where it is key. Vasy is stepping up consistently and I don't think you can say the same for Shesterkin. He HAS that ability to completely turn a game but hasn't demonstrated it enough.
In the regular season, the Rangers beat Tampa all three times. Tampa were better in most of the advanced metrics in each game. Rangers capitalized on some high danger goals in each game and while Tampa had a ton of high danger chances – they really didn't score many of them. Pretty crazy that actually as Tampa had the 3rd best HDGF all season.
I'm not sure how this series will go, but one thing I am going to say is I won't count out the Rangers. I'm still not sold on them. I feel they only got the job done against the Penguins due to Crosby out. When I look back at that Canes series I'm not really feeling that team as a Stanley Cup winning team.
The problem is the betting odds suck. I feel like we could see 5 or 6 games in this series but over 5.5 is only 1.52. I can't even bet Rangers +1.5 as that is 1.64.
So yeah – I honestly don't know here. If anything, I am feeling like the Rangers might be a little bit too favoured. Looking at the odds, and considering the way Tampa have been playing? I'm surprised we're getting higher than coinflip odds on that one.
I like the value enough there, even though I wanted to back the Rangers to cause some problems. The odds have convinced me plus the consistency of Vasy is huge. It won't surprise me if Rangers do some damage, but Lightning -1.5 at 2.15 odds.
Follow @BetNHL
BetNHL.ca » Tonights Tips »