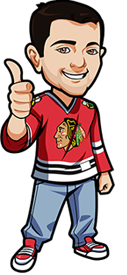 Written by Scott on Sunday, March 10th, 2013
Follow @BetNHL
Good Night of Hockey Last night. The Habs continued to impress with their come from behind victory over the Lightning. The Penguins held off the pesky Maple Leafs winning in a shootout. The Bruins and Blue Jackets both won their games by way of shutout over the Flyers and Red Wings respectively. Just a nice night of hockey with some surprising results.
Great Sunday of hockey planned for us to enjoy today. With 10 games being played today there is no shortage of betting options. The Rangers and Caps, will be a good tight one, and don't we all love a good tight one. The red hot Habs roll in to Florida to take on the struggling Panthers. Fresh off their first regulation loss of the season and the Blackhawks welcome the Oilers to town. Lots of games to enjoy and what better way to let your body "adjust" to the time going ahead then to sit on the couch with a box of beer and or pizza.
So lets get to the tips for Sunday March 10th 2013
Rangers vs Capitals Betting Tip: Capitals To Win 2.12

With both teams coming off a lose this game could go either way. Also both teams are on the verge of being out of the playoff picture completely, with the Caps in 12th and the Rangers in 8th this game really is, as cliche as it sounds, a must win game for both teams.
So with the Caps being at home, and after taking the loss last night against the Islanders, I'm picking the Capitals To Win for 2.12 odds at Pinnacle.
Blues vs Ducks Betting Tip: Ducks -1.5 3.25

I am going to suggest Pinnacle Sports for this one also as they have the Ducks to win by two or more goals at an unreal 3.25
When the Ducks are at home and are currently in second place not only in the Western Conference but in the entire NHL this is a good bet with an amazing set of odds. With the Hawks finally losing this would be a good chance for the Ducks to shorten the gap between the two teams so head to Pinnacle and bet the Ducks -1.5 For 3.25 Odds
Sharks vs Avalanche Betting Tip: Sharks To Win
The Best Odds I could find for a at BetOnline. It wasn't that long ago that the Sharks were being considered a threat for western supremacy. But a terrible month of February slowed them down. This is still a very good team and with the odds for them to win the game being above even at BetOnline. this is worth it.
Sure the Avalanche just accomplished what no other team in the West could this year and that was to beat the Blackhawks in regulation, but will the momentum carry over to this game? Who knows but when ever you have the 6th place team playing the 13th place team half way through the season and the 6th place team is paying out at for a win you just can't pass this up
Follow @BetNHL
BetNHL.ca » Tonights Tips »