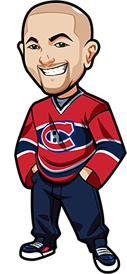 Written by Graeme on Thursday, March 10th, 2016
Follow @BetNHL
It was quite a bizarre night in the NHL last night, with 5 of the 6 games going to overtime. If you managed to make money last night then good job – from all the forums etc I've looked at today it was a bloodshed for the majority of people with quite a few 0-8 and other nights in there. Freak nights like that happen.
Hopefully you were on the first period betting system tips because they went 2-1 for +3.35 units of profit which was nice. I'm surprised those systems are doing so well and still waiting for the drop to happen but variance hasn't kicked in yet which is nice to see.
Speaking of the 1st period system – someone mentioned in the comments about betting on it at B365. B365 only offer -0.5/+0.5 odds tilted towards the favourites – so if we have an underdog pick you can't bet there unfortunately. You can do it in live betting though so just have to bet as soon as game starts. Otherwise I recommend 888 Sports.
Was a bit ticked off about the Halak situation. I said yesterday I felt the Islanders would tighten up with Halak missing a game. However then it came out that he was going to be out for SIX WEEKS. Mindblowing. Everything I read said he'd miss just one game, and the injury didn't look that severe. It's not like knowing that in advance meant I would have tipped the Leafs or anything – but it's likely that I would have skipped that game entirely while I wait and see how the Islanders react.
Oh well – that's hockey for you.
Only 6 games on the board tonight let's get at em:
Hurricanes vs Bruins Betting Tips:
Me and Scott always have fun arguments when it comes to Hurricanes games. I like how they look on a lot of metrics and on the majority of nights I'm always arguing for them. Although I am surprised at how well they are coping without Staal. Granted it's only been 3 games(hard to count that Blues game) but I thought they were going into tank mode.
This is one night where we're not arguing however. Despite what I've seen from the Canes, I'm loving everything about Boston lately. They're just looking so solid and the chemistry seems to be there.
I like Bruins tonight.
Bruins in Regulation.
Canada: 1.92 Odds at Pinnacle Sports.
USA: -130 Odds at BetOnline..
Everyone Else: 1.92 Odds at Pinnacle Sports.
Canadiens vs Sabres Betting Tips:
Good recent history of high scoring games. Last few games for both teams have seem high scoring games – both on offense and the defense. Ticks all the boxes.
Over 5 goals.
Canada: 1.80 Odds at Pinnacle Sports.
USA: -125 Odds at BetOnline..
Everyone Else: 1.80 Odds at Pinnacle Sports.
Sharks vs Devils Betting Tips:
Sharks are one of those teams performing better on the road than at home at the moment, however we'll be backing them in the SAP Center tonight. The Devils have some serious issues at the moment. Losing Schneider is huge and I just don't think they have the backups for it.
I am a little bit concerned about the Sharks ability to finish a game off but they have had a few solid home wins lately, and I think they can continue that with a nice pounding of the New Jersey Devils. Going to go for the riskier handicap play tonight.
Sharks -1.5.
Canada: 2.28 Odds at 888 Sports.
USA: +115 Odds at BetOnline..
Everyone Else: 2.28 Odds at 888 Sports.
Other Thoughts:
Red Wings are probably a good bet tonight too and were close for us. Jets are trash, but I'm concerned about the way Detroit are playing at the moment. Those back to back losses to Chicago in particular are killer as they really hurt their morale. I mean how can you be a cup contender if you get blown away like that? Just didn't make the cut for us.
Will probably also throw a value bet on the Oilers as I'm still not 100% convinced of the Wild and their abilities yet and the Oilers on the road play better.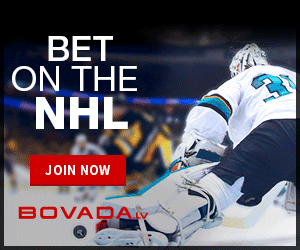 Experimental Betting Systems:
OHL Betting Tips:
2 OHL Tips today. Sault Ste Marie -1.5 at +155 odds, and Peterborough/North Bay Over 7 Goals. Note that Bodog/Bovada list them as the "Marie Greyhounds" for those who don't know their OHL teams.
Bet the OHL at:
Canadians: Bodog and 888 Sports.
Americans: Bovada.
Everyone Else: 888 Sports.
(Our 1st period systems are based on 3 levels of confidence that the system has for each pick. Ideally all 3 systems will be winners long runs, with the high confidence system doing the best but with the least amount of picks etc)
1st Period System Medium Confidence: Boston Bruins (2.60), Minnesota Wild (2.65), Winnipeg Jets (3.85)
1st Period System Low Confidence: San Jose Sharks (2.38), Ottawa Senators (3.70).
Bet 1st Periods at Bet365 (Americans: We recommend http://www.bovada.lv or 888 Sports..
Americans: Bet 1st Periods at BetOnline. or Bovada.
Follow @BetNHL
BetNHL.ca » Tonights Tips »