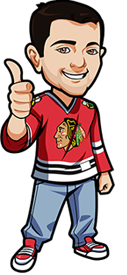 Written by Scott on Thursday, March 10th, 2022
Follow @BetNHL
Only 2 games yesterday. We didn't have any tips.
The Oilers beat the Capitals 4-3 in overtime.   In the loss Backstrom scored and had an assist and the assist gave him his 1000th career point.
The Canucks beat the Canadiens 5-3.  Miller had 4 points for the Canucks.
A busy night of hockey with 13 games for us with 8 of them starting at 7:00 pm ET.   Let's get to it.
Blackhawks vs Bruins Betting Tips:
The Bruins have gone 7-1-1 over their last 9 games,  the Hawks are 4-5-1 over last 10.
The Bruins hold the 1st wild card spot and for them to get out of that they need to win to try and catch the Leafs and Lightning.  They have 73 points,  the Leafs have 78.  It's games like this where they should win to gain points.
This is first meeting between these teams this season and they play each other again on Tuesday.
No value in taking the Bruins in regulation so it would have to be the handicap and with the Bruins last 2 games needing extra time to be completed I can't make that a tip.
Avalanche vs Hurricanes Betting Tips:
So this is the game of the night without a doubt.   The 1st place team in the West, and league, Avalanche vs the 1st place in the East, and 2nd in league, Hurricanes.
Both teams odds are 1.90 for a win so even the sportsbooks have no idea who wins this one.
The Avs haven't had a great March for their standards going 2-2-1.  The Hurricanes have an 11 game point streak when at home.
I could make cases for each team as to why they will win this game but it really could go either way.
Knights vs Sabres Betting Tips:
Eichel returns to Buffalo here. 
The Knights were preseason favorites to win the Pacific Divison but now find themselves barely hanging on to 3rd place with 68 points and the Oilers right behind them with 66.
The Sabres are struggling as expected and they have lost 8 of their last 10 games.
I do like the Knights to win here.  Eichel can say he has no hard feelings against Buffalo in the media but the way they treated him was bullshit and I'm sure he wants to come back and kick the shit out of them.
Knights win in regulation
Canada: 1.76 Odds at Sports Interaction
USA: -150 Odds at BetOnline.
Everyone Else: 1.69 Odds at Bet365 (Americans: We recommend http://www.bovada.lv
(Odds correct as of 2022/03/10 10:10:09 AM EST but are subject to change.)
Jets vs Devils Betting Tips:
It's the Jets so I'll skip this one.
Kraken vs Senators Betting Tips:
I really have no clue who wins this game.
Both teams have had lousy seasons.  The Kraken have lost 7 straight road games so I guess I would lean towards a Sens win but they have gone 3-6-1 over last 10 so no confidence in them to win here.
Wild vs Wings Betting Tips:
The Wild picked a bad time to have a rough patch.  They have gone 3-7-0 over last 10 and are in 3rd in the Central with 69 points and that team from Nashville is right behind them with 68.
The Wilds road record is 16-13-2 and the Wings home record is 16-12-3.  So based on those numbers I have to skip this game.
Flyers vs Panthers Betting Tips:
The Panthers should win this game but there isn't any value in taking them unless we go with -2.5 which is only 2.20.  Shit odds for such a risky play.
Coyotes vs Leafs Betting Tips:
The Leafs are favored here and rightfully so. 
A Leafs -1.5 pick is only worth 1.64.  So I really can't take them and I have no confidence in the Coyotes here so it's an easy skip for me.
Jackets vs Islanders Betting Tips:
The Jackets are a team that are hard to bet.  They have Laine who is playing well with 42 points in 38 games but they are hovering around .500 for the year and are in 9th place with 59 points.  The Capitals are in the final wild card spot ahead of them with 72.
The Islanders have had a bad season and I have no confidence in them at all.
I'm skipping this game as it's just to tricky to call.
Ducks vs Predators Betting Tips:
Ahh the Predators.   No thanks.
Rangers vs Blues Betting Tips:
The Rangers are 6-3-1 over last 10.  The Blues have lost their last 4 games.  They need to find a way to score more goals as they have scored only 4 times in their last 3 games.
They played each other at the start of this month and the Rangers win 5-3. They started Georgiev against the Wild, so Shesterkin should get the start here.
Both teams have had decent seasons with the Rangers in 2nd in the Metro and the Blues 2nd in the Central.
With Shesterkin likely to start I would lean towards a Rangers win but the Blues are going to snap their losing skid so at home against a strong team would give them a boost moving forward in the final quarter of the season.   I'm skipping this one.
Lightning vs Flames Betting Tips:
This should be a good one. 
The Lightning are 7-3-0 over last 10 and the Flames are 7-2-1.  On the road the Lightning are 18-8-2 , at home the Flames are 16-5-5.
The Lightning are ranked 6th and the Flames 5th in GPG.  The Lightnings games this month have been high scoring with totals of; 11, 9, 4, 6 and 7.  The Flames March has also been high scoring; 9, 4, 7, 9 and 6.
Two of the top teams in the league will be trying to flex on each other to show that they are a team to be feared.
Over 6 incl OT/SO
Canada: 1.99 Odds at BetOnline.
USA: -101 Odds at BetOnline.
Everyone Else: 1.99 Odds at BetOnline.
(Odds correct as of 2022/03/10 10:10:09 AM EST but are subject to change.)
Sharks vs Kings Betting Tips:
The Sharks have lost their last 3 games and the Kings have won their last 3.
The Sharks have some goaltending issues right now with Reimer and Hill both out so they will be using Sawchenko and Stalock. 
Over their last 10 the Sharks are 2-5-3 and on the road they have gone 11-12-4.  The Kings have gone 8-2 and at home have gone 14-12-2.
The Kings are 5-0 in games played on 2 days rest and 6-1 in last 7 after a win
Kings win in regulation
Canada: 1.77 Odds at Sports Interaction
USA: -135 Odds at BetOnline.
Everyone Else: 1.71 Odds at Bet365 (Americans: We recommend http://www.bovada.lv
(Odds correct as of 2022/03/10 10:10:09 AM EST but are subject to change.)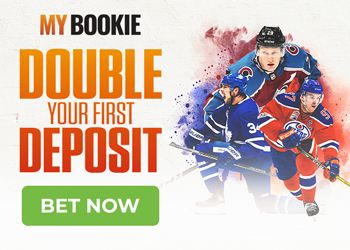 Follow @BetNHL
BetNHL.ca » Tonights Tips »