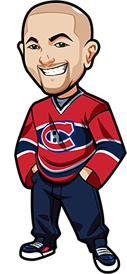 Written by Graeme on Friday, March 11th, 2016
Follow @BetNHL
The Devils managed to get a big upset last night, beating the Sharks 3-0. It was quite the game to watch with the Sharks peppering the Devils net with 30 shots on target, compared to Devils 16. That goal a minute into the 3rd really hurt the Sharks.
Oilers vs Wild was an interesting one. I had said yesterday the Oilers were probably worth a value bet and I bet them – but it was one of those wins where it didn't even feel like a win. Wild won a ridiculous amount of faceoffs, had 4 power plays etc. If I had been on the other side, I probably would have thrown something through my TV. McDavid scored a relatively normal goal and all the sports sites are going on about his "incredible highlight reel goal". Ugh.
Only 5 games tonight but we've got a game that I'm sure a lot of fans have been looking forward to. Let's start with that:
Penguins vs Jackets Betting Tips:
The Crosby vs Dubinsky rivalry will continue here. Crosby was absent the last time these two played. The previous time was when Dubinsky cross-checked Crosby. The Blue Jackets have Bobrovsky back tonight too it looks like.
After the 2-1 loss to the Islanders I just can't look past the Penguins hoewever. While Jackets are pretty decent at home, the Penguins have been fantastic lately at picking themselves up. The last time they lost two in a row(in regulation time) was back in mid-December when they went on that bad little run.
Penguins to win.
Canada: 1.76 Odds at Bet365.
USA: -135 Odds at Bovada.
Everyone Else: 1.76 Odds at Bet365.
Flyers vs Lightning Betting Tips:
Another interesting game. Flyers stopped the Lightnings incredible run, and since then Lightning lost to Bruins and were shut out.
We often see a hot team on a hot streak lose one and then go on a downfall. However Lightning have an awesome chance to redeem themselves here by beating the team that beat them.
A lot of people are no doubt expecting a big revenge beating from Tampa but I'm not too sure. While Tampa really didn't show up in that Philly game, the Flyers are playing solid and have had a nice break since that game.
It's a tricky one because you have two goaltenders who can turn up at a moments notice, but I'm going to go with Over 5 Goals.
Canada: 1.74 Odds at Bet365.
USA: -135 Odds at Bovada.
Everyone Else: 1.74 Odds at Bet365.
Experimental Betting Systems:
OHL Betting Tips:
There is expected to be a few OHL Plays today but no odds posted yet. I will edit them in when posted. I expect around 10am ET
Bet the OHL at:
Canadians: Bodog and 888 Sports.
Americans: Bovada.
Everyone Else: 888 Sports.
(Our 1st period systems are based on 3 levels of confidence that the system has for each pick. Ideally all 3 systems will be winners long runs, with the high confidence system doing the best but with the least amount of picks etc)
1st Period System Medium Confidence: Calgary Flames (2.75), Pittsburgh Penguins (2.85).
1st Period System Low Confidence: Anaheim Ducks (3.25).
Bet 1st Periods at Bet365 or 888 Sports..
Americans: Bet 1st Periods at BetOnline. or Bovada.
Follow @BetNHL
BetNHL.ca » Tonights Tips » March 11th, 2016 NHL Betting Tips