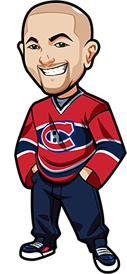 Written by Graeme on Thursday, March 11th, 2021
Follow @BetNHL
It's a stacked Thursday with 10 games on the board.
We had no tips yesterday. It's always nice to have a night off and just sit back and be able to enjoy the hockey. A couple of thrashings and a couple of tight games.
Now we've got a lot of games today. It's interesting the way this season has went – I'm someone that pushes big for in regulation bets. My belief there is if I believe a team should win a game enough to bet on it, they should be able to win it in regulation. Not rely on the general crapshoot of OT and a shootout.
Not all the time of course just in certain circumstances. A team at say 1.74 odds is one where I'll be pushing for that regulation bet. But this past week in particular – really put me off that. Quite a few periods this season where in regulation doesn't seem to be the way to go.
And of course after saying all that – I have two in regulation plays tonight. They're a double at 2.14 odds if you want to just do OT. Because knowing the way this season has gone both teams will win but will need overtime.
Let's see what we got tonight as always I will run through every game and provide tips if I like something enough:
Sabres vs Penguins:
I'm almost ready to fall into that trap of believing in the Penguins. Solid results in March over Rangers and Flyers. Should really pick apart the Sabres.
They have not been able to get it done on the road though this season. Now Sabres are at home where they are 2-7-2 so it's not like that's a big factor. But still they've played a ton on the road and may be more fired up here.
With Eichel out too and their goalies – I mean this is the type of game Pens should route. Crosby doing some stuff lately too.
I hate the Pittsburgh Penguins. I really do. Which is funny because I was a big fan of them growing up. I hate them from a betting perspective. Because it's spots like this. Spots where on paper they should win. And they freaking blow it. They get thumped 3-0.
I've fallen into this trap with the Penguins so many times. Yet I still feel mathematically it's the right freaking play. After what I wrote in the opening they'll probably win it in OT now just to spite me. Seriously this is a spot I have backed the Pens in so many times and they have let me down.
Penguins in Regulation
Canada: 1.80 Odds at Sports Interaction (SIA) + free $20 bet.
USA: -130 Odds at BetOnline..
Everyone Else: 1.80 Odds at Bet365 (Americans: We recommend http://www.bovada.lv.
(Odds correct as of 2021/03/11 11:50:12 AM EST but are subject to change.)
Islanders vs Devils:
Devils come into this game showing a little bit of fight how about that? Big battle against the Caps. Win over the Bruins.
Islanders at home are a beast. 11-0-2 record. Devils on the road bizarrely are 6-2-2.
Islanders have fans at the game. 1,000 local health care workers. Maybe I'm a sucker but I think that's the sort of thing that will push the Islanders. I was tempted to leave this one due to Devils bizarre road performances and the fact that there have been close games between the two.
Blackwood is 4-0-0 on the road too I believe. Amazing. In tonight I expect.
Honestly a large part of this is due to the fans being there, and also the Islanders home performances. I have outlined the concerns above but I think I'm good with Islanders in Regulation if Varl in net. I will note it's one I wrote up about an hour ago before going through the rest of the games and I feel iffy about it.
Canada: 1.77 Odds at Sports Interaction (SIA) + free $20 bet.
USA: -135 Odds at BetOnline..
Everyone Else: 1.76 Odds at Bet365 (Americans: We recommend http://www.bovada.lv.
(Odds correct as of 2021/03/11 11:50:12 AM EST but are subject to change.)
Jackets vs Panthers:
Panthers favourites here. Well deserved. They have been solid. Jackets are a mess. These two just played and Panthers ran out 4-2 winners. Tippett popped up for them whic was nice to see. Still a close game though that relied on the PP.
Bob in net tonight. This is an odd one where when I look at it my gut says Blue Jackets pull it off. While Panthers look good they're also lacking consistency. They've only strong two wins together once since like mid-Feb which was over the Preds. Panthers is probably the okay play here but I'd take them in OT/SO if that was the case. Over a solid possibility too.
Flyers vs Capitals:
Coinflip of a game. Flyers stumbling somewhat at the moment. Caps actually getting the results at the moment. I'd feel better about the Caps if Samsonov is in net. Vitek has stepped up too though.
It'e one of those games where I don't have super strong feelings about it, but I just feel like a play on the Caps is fine here. However that last game Flyers were on a B2B and in their 4th game in 6 nights. Also still grabbed the lead. I dunno I'm debating Caps here if Samsonov in net but this is one I'll think about more. Will post in the comments if I like it enough to make it a play.
Hurricanes vs Predators:
Canes had to come back from 2-0 to force OT In that last game where they took it. I know a lot of people were on Canes reg there so that was a tough one. Josi is out again. Rinne was solid in last game. I feel like after that last game Canes get a convincing result tonight but not enough to back.
Leafs vs Jets:
Leafs big favourites here. Maybe they win. See no reason to back them although hopefully we see a lot of drive about them to end this losing run.
Bruins vs Rangers:
Based on results and performances going back the last month, Rangers are a fine play mathematically here at about 2.60 odds. But it's the Rangers. I can't back it with any degree of confidence.
Red Wings vs Lightning:
Would have to be Tampa -1.5. I don't hate it. When they win, they cover that spread. You have to go back to January 30th, the only time they won in regulation by 1 goal. Every other regulation win they covered the spread.
I think they cover it here. The problem is when it comes off a game like last time it's so hard to really justify it ya know? The only thing going into that game was Wings had more rest.
Red Wings in that last game looked great. Larkin especially. Maybe Tampa just didn't take them seriously. Maybe it was the rest. We don't have much data to go on in that regard. Tampa lost to Panthers then thumped them 6-1. They scraped the OT win over Hawks then lost the following game in a shootut.
I'm probably going to regret not going with Lightning -1.5 here. I really like it. I may update in the comments later if I decide to make it a play. It's just tough to back them to win by 2 goals after that last outing.
Stars vs Blackhawks:
Stars on a bit of a tear here. Just not a team I feel good backing at the moment.
Flames vs Canadiens:
Habs coming in off last nights big win over the Canucks. Starting to get going. Flames coming in rested. Rest seems to be more of a factor this year. That's weird. Who would think that playing the same team 5 out of 7 nights in a row would wear on a team. Sutter era too. Too many questions here. I do think as underdogs it's a good spot for the Flames.
Follow @BetNHL
BetNHL.ca » Tonights Tips »